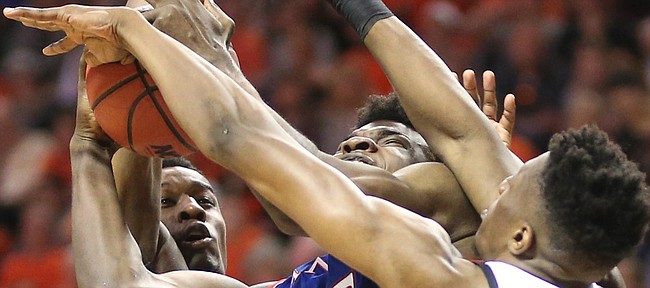 STILLWATER, OKLA. — Sometimes when Kansas sophomore Udoka Azubuike steps onto the basketball court, his 7-foot, 280-pound frame is too immense for opponents to handle. The mere idea of defending or trying to score over the Jayhawks' center becomes intimidating.
Oklahoma State's big men suffered no such trepidation Saturday at Gallagher-Iba Arena.
Motivated 6-9 Cowboys senior Mitchell Solomon set a fearless tone inside in his final home game, and when Azubuike couldn't equal Solomon it inspired Oklahoma State all the more to complete a season sweep of the 14-time reigning Big 12 champions.
Photo Gallery
Kansas basketball v. Oklahoma State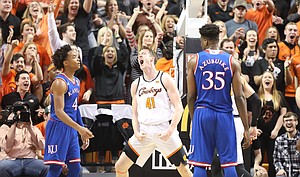 View a gallery of images from Saturday's game between the Jayhawks and Cowboys at Gallagher-Iba Arena in Stillwater, Okla.
After Solomon hit KU with 16 points, seven rebounds and a pair of blocked shots in an 82-64 Cowboys victory, Bill Self had a difficult time pinpointing the source of Azubuike's issues. The Jayhawks' occasionally dominant center finished with eight points on 4-for-6 shooting, with seven rebounds, four fouls and four turnovers in 20 minutes.
"I don't know. I don't know," Self repeated, when asked if a lack of focus or execution were to blame. "It was a bad struggle today, though. A bad struggle. We had a hard time remembering any sets. You know, you can't run a set against pressure if one guy doesn't know what he's doing, and that happened a lot today."
An active deterrent in the paint earlier the week versus Texas, Azubuike blocked no shots against Oklahoma State (18-13 overall, 8-10 Big 12). In the first half, a simple Solomon head fake sent KU's would-be rim protector flying past, paving a runway for the Cowboys senior to slam and celebrate.
Less polished 6-11 junior Yankuba Sima went right at Azubuike for a score inside in the first half, too, and finished with six points, two rebounds and a block in 15 reserve minutes.
On the opposite end of the floor, both Solomon and Sima seemed to draw confidence from their offensive success. They bodied Azubuike to make sure he didn't get easy catches and stayed active around him inside, never allowing him to create even the slightest positive momentum for himself.
"They was pushing him off the block a lot," KU senior point guard Devonte' Graham said, "making him catch it further out than he usually do. He couldn't just turn and make a move. He had to make a couple more bounces than he was usually used to."
Podcast episode
Kansas basketball coach Bill Self laments' the Jayhawks' competitiveness following an 82-64 loss at Oklahoma State in the regular-season finale.
It was such an uncharacteristic day for Azubuike, who scored 20 against the Cowboys earlier this season, that freshman Silvio De Sousa looked more impressive, with his seven points on 3-of-5 shooting, three rebounds and no turnovers in 13 minutes off the bench.
"I thought he did OK," Self assessed of the 6-9 De Sousa. "He was our best big guy today — that's not saying a lot."
Sophomore Mitch Lightfoot didn't inspire Self to play him more than two first-half minutes and five second-half minutes in the worst defeat of the season for KU (24-7, 13-5). By process of elimination, De Sousa had a relatively satisfactory showing.
"Yeah, he played good," Graham said of the freshman from Angola. "He came in and gave us a nice little spark off the bench. But we can't rely on a guy who just got here in December. We've got to have our two other bigs come out and play smart and stuff like that."
According to De Sousa, the Jayhawks lacked energy and concentration even before the game, setting them up for a long afternoon. The loss to Oklahoma State seemed even more drawn out for KU's big men, with Solomon and Sima forcing them to work for every inch inside and around the paint.
"They're strong," De Sousa replied, when asked why the Cowboys' bigs were able to take on the roles of aggressors. "They have size. It's a hard game when you have guys like 7 feet or about 6-11 guarding you and the same build as you. Today we just weren't comfortable doing what we usually do, so it was hard for us."
Welcome to March. Nothing of any value comes easily at this point in the season. If KU's bigs are quick learners, then this lesson in effort and physicality came at just the right time, before the postseason officially begins.
If not, the Jayhawks' upcoming NCAA Tournament run could be short-lived.