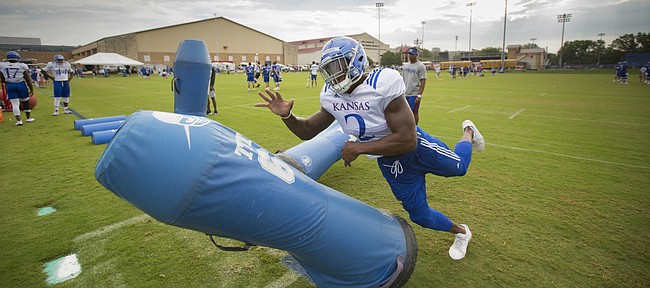 The next couple of days could go a long way in determining what the upcoming years of Dorance Armstrong Jr.'s life will look like.
The former Kansas defensive end arrived in Indianapolis Thursday for the NFL's annual predraft scouting combine, and by the end of the weekend coaches and general managers from around the league will have more concrete opinions on Armstrong's pro potential.
Armstrong's draftability is not in question — the 6-foot-4, 246-pound edge rusher from Houston is projected as a second- or third-round pick — but strong interviews on Saturday and impressive workouts Sunday could inspire teams to move him up on their big boards and take him even earlier.
According to Lance Zierlein, a draft analyst for NFL.com, at least one NFL scout expects Armstrong's stock to rise in the days ahead, despite the defensive end's drop-off in statistical production during his junior year with the Jayhawks, in which Armstrong made 9.0 tackles for loss and was credited with 1.5 sacks.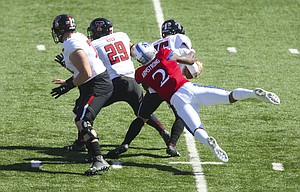 "Don't read too much into that sack total this year," an unnamed NFC scouting director said. "They didn't really cut him loose this year. I still like the talent and he will help himself at the combine."
Armstrong, who has spent the past several weeks training in Texas, projects as either a D-end in a 4-3 alignment or a rushing linebacker within a 3-4 scheme at the next level.
"A team would probably be best served by lining him up wide to take better advantage of his explosive traits as a rusher," Zierlein wrote. "He still has work to do in terms of developing a rush plan with winning moves and counters, but he has the traits teams look to develop."
ESPN's Mel Kiper Jr. rates Armstrong as the seventh-best outside linebacker available in the upcoming draft (April 26-28), while his ESPN cohort Todd McShay thinks Armstrong is the 10th-best defensive end.
In a four-round mock draft at NFL.com, Armstrong is predicted to be a mid-second-round pick, going 51st overall to Detroit.
All that could change, for better or worse, based on how things play out for Armstrong at the combine.
"The most important thing I want them to know is I'm a dual-threat player," Armstrong told Aaron Wilson of the Houston Chronicle. "I can rush the passer or drop back. I get my lateral movement from basketball. I have that speed rush off the edge."
His agent, Kennard McGuire, explained to the Chronicle why he thinks NFL decision-makers who meet Armstrong will come away impressed with more than his speed and power.
"He's the type of guy that people gravitate to," McGuire said. "I believe when they get to know him as a person that will transcend what they see on film. He's just an amazing kid. He's the kid you would want your daughter to bring home."
Armstrong also is expected to participate in KU's pro day in late March.