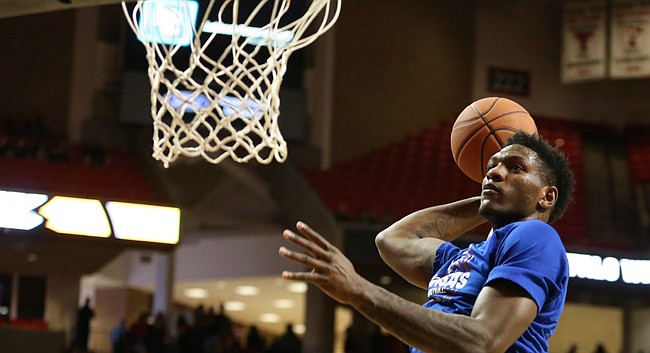 Just two of the 351 Division I schools in college basketball assign fewer minutes to their benches than Kansas.
Syracuse's bench accounts for 17.2 percent of the minutes, Boston College's 17.5 percent and Kansas 20.1 percent, according to kenpom.com.
It's not necessarily such a bad thing.
Thus far, the lack of depth doesn't seem to have hurt the Jayhawks, who clinched the school's 14th consecutive Big 12 title and remain in the hunt for a No. 1 seed.
The Jayhawks are finishing the season better than they started it, so the shallow depth doesn't seem to be wearing them down.
And then, there is the bright side of having a short bench. It means the starters spend more time together on the court and become more familiar with teammates' tendencies.
Kansas is at its best in transition. In the half court, the Jayhawks look best when the ball moves rapidly, as it did in the first half of the Texas Tech game.
So far, having a seven-man rotation featuring Mitch Lightfoot and Marcus Garrett coming off the bench probably has helped KU more than it has hurt, but that doesn't mean an eighth man won't be needed in a big spot in the NCAA tournament.
Talented but inexperienced Silvio De Sousa is the most likely to be pressed into duty in a big spot.
He made his debut Jan. 13 against Kansas State and has reached double figures in minutes in just 1 of 11 appearances. That came at home against defensively challenged Oklahoma. De Sousa produced 10 points and six rebounds in the 104-74 rout.
He did not play at Texas Tech and totaled three points and two rebounds, both offensive, in an 80-70 victory vs. Texas.
Overall, De Sousa has played 39 minutes and posted big numbers in many statistical categories, good and bad. He has 18 points and 15 rebounds (10 offensive), made 6 of 9 field goals and 6 of 7 free throws. He also has 10 personal fouls and seven turnovers.
Numbers only hint at a player's impact and generally the more experience a college player attains, the better he will be at making the four players with him on the court better.
Going from playing in high school games the first semester to Big 12 second semester has its challenges.
Kansas coach Bill Self shared one example of where playing De Sousa could cause a chain reaction that wouldn't show up in the box score.
"Do you want to switch four (on defense) like we do every day in practice?" Self said. "Whenever Silvio's having to guard Keenan Evans or (Jevonte) Carter (on a switch), the answer would probably be no. So how do you work it with everybody else, knowing that we're going to play different just for the small amount of time that he's in the game? And is it worth practicing all that time just to get to the point where you may do something in the game or you may not do it?"
Self said he also reduces the number of plays and in half-court sets and out-of-bounds plays for De Sousa to learn, and said he has done well in that area.
"I don't think that he's had a fair chance having the feel to play with others like those others do through the summer, through pick-up games, through the fall," Self said.
Lightfoot, the first option off the bench when Udoka Azubuike needs a breather or gets into foul trouble, does what he can to help De Sousa catch up for lost time.
"He did great against Oklahoma," Lightfoot said. "It's just a getting-comfortable thing. You have to realize he was playing high school games not too long ago and there's a big difference between high school and high-major, Division I college basketball. He's doing a great job. He did great in practice yesterday. He's just working his tail off and getting better, and we're all here supporting him."
Most of the time, seven is enough. But it doesn't hurt to have an eighth prepared player, just in case.