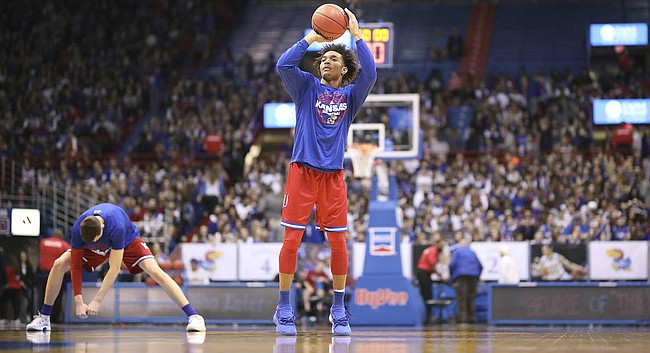 As it prepares for the regular season finale Saturday at Oklahoma State, the sixth-ranked Kansas men's basketball team has put itself in position to be a No. 1 seed in the upcoming NCAA Tournament.
Yes, again.
If that happens — and it's still far from a lock, even though many bracket prognosticators currently have KU pencilled in a as 1 seed — it would mark the third year in a row and eighth time in the past 12 seasons that the Jayhawks entered the Big Dance as a No. 1 seed.
That alone gives KU coach Bill Self plenty of incentive to play Saturday's game in Stillwater, Oklahoma — 3 p.m. on ESPN — as if it were just another game and Self said Thursday that he had no plans to adjust his lineup to give his starters extra rest or anything like that.
Podcast episode
Kansas basketball coach Bill Self discusses his Jayhawks' chances at getting to the No. 1 seed line by Selection Sunday in 10 days, as well as a variety of other topics during his weekly press conference.
"We're not playing for anything to help us in the Big 12 Tournament, obviously," said Self, whose team will be the Big 12's No. 1 seed next week in Kansas City, Mo. "But (Saturday's game) has potential national implications depending on the seed lines and stuff like that. So certainly we'll play to win."
Unlike most of the college basketball fan base, from coast to coast, the Kansas players are not flocking to Bracketology or checking the updated projections after every game, win or lose.
"I honestly know nothing about that," said sophomore guard Malik Newman. "Coach mentioned it a couple of times and I saw something on ESPN, but I don't really know much about seeds. At the end of the day, we've got to take the same path as a 16 seed if we want to win."
Added sophomore forward Mitch Lightfoot: "At the end of the day, it's the players that win the games and if the players are all together then you can accomplish anything."
There's still plenty of time to worry about all of that and the Jayhawks (24-6 overall, 13-4 Big 12) could have as many as four more games before opening play in the NCAA Tournament, which begins March 15.
But five consecutive wins in the past 16 days — four over teams currently projected to be in the NCAA Tournament — have elevated Kansas into familiar territory and Self said Thursday that there was only one way to stay there.
"I think the only path is to win," he said. "I think if we were to win, I think we'd put ourselves in a great position. I believe there are seven or eight teams, maybe more, maybe nine, that are in play for a 1 seed, and I think we're one of those. Whether or not we're on a 1 line now, who knows? … A lot depends on what other people do, but also we kind of control it, in my opinion, because we've got so many good wins. I think we have 18 wins against (the RPI) Top 100. That's a lot of wins. I think we're like second in the country in the most (RPI) top 50 wins or something like that. (Virginia leads the country with 11 and Villanova has 10). We've put ourselves in a good position."
But that position will only matter if Kansas does what Self believes it needs to do to ensure a 1 seed and that starts with taking care of business at Oklahoma State on Saturday.
After that, provided they keep advancing, the Jayhawks could pick up 3 more Top 50 RPI wins in the Big 12 tournament — Oklahoma (37), TCU (19) and Texas Tech (23) or West Virginia (29) all could draw KU in the bracket — which would only bolster their resume for a No. 1 seed.
But it's Self's Al Davis, Just win, baby, mantra that seems to matter most right now and his players clearly have bought into that, as well.
"A lot," said Newman on Thursday, when asked what KU had to play for this weekend. "Every game kind of has the same amount of pressure as the first game, so we still have to go down there and take care of business."
More like this story on KUsports.com