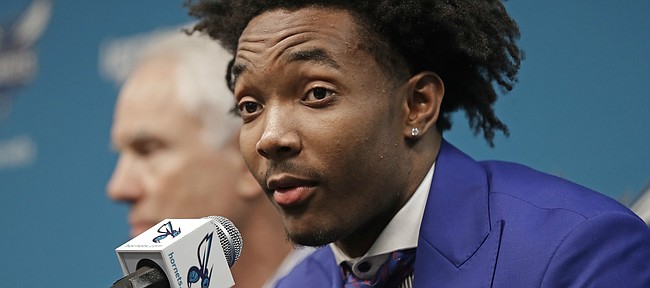 Videos and photographs are no substitute for seeing things in person, but judging by the looks on their faces and bounce in their step on the videos that have been floating around the Internet, former Kansas guards Devonte' Graham and Svi Mykhailiuk have yet to come down from Thursday night's NBA Draft high.
Both made second-round picks at No. 34 and No. 47, Graham, who is headed to Charlotte, and Mykhailiuk, who landed with the Lakers, spent the better part of Friday saying hello to their new situations.
Graham, who watched the draft and celebrated his big night in his hometown of Raleigh, N.C., made the two-and-a-half-hour, early-morning drive to his new home with his mother, grandmother and sister and was seated at a table with Charlotte first-rounder Miles Bridges, of Michigan State, and Hornets GM Mitch Kupchak by 10 a.m., saying hello to his new city the local media there.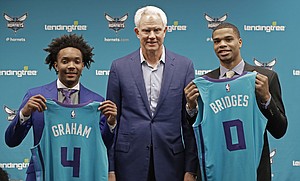 "The last 24 hours have been emotional," Graham's mother, Dewanna King told the Journal-World on Friday afternoon. "Going from uncertainty to being two and a half hours from home. It's just exciting and a blessing to be here. We didn't get much sleep, but Devonte' has worked so hard and deserves every moment."
Some of the only shut-eye Graham got was on the drive from Raleigh and King posted a video of the snoozing Charlotte Hornet, captioning the video with, "You sleep good knowing that your mom is your manager and driver," as Graham sat in the front seat, sleeping with his new Charlotte Hornets hat on his head.
By the time he was at the table for the introductory press conference, though, the former Jayhawk looked and sounded a lot like he has during the past four years in Lawrence. In fact, Graham was even wearing KU gear, rocking a crimson and blue "KU" tie with his blue suit.
"Everybody was just excited, just because I'm right up the street," Graham said when asked about the reaction to the news that Atlanta, which drafted him No. 34 overall, had traded him to Charlotte for two future second-round picks. "I've been far away from Brewster to Kansas. They had to take a flight and now they can just drive and get here. It definitely feels full circle. But I haven't spent much time in Charlotte. Maybe a couple AAU games here and there, but I haven't been here too often."
Despite the early-morning intro adding to a hectic time, Graham said he was thrilled to get to meet his new coaches and front office folks so quickly.
"I didn't get to meet Mike yet, but looking forward to it," said Graham of Hornets chairman and NBA legend Michael Jordan. "But it's definitely good to get up here and meet the coaches and get a feel for everybody and what's expected."
Mykhailiuk's introduction in Los Angeles on Friday came mostly via social media, but the Lakers did not treat the former KU sharp-shooter like he was any different than first-round pick Mo Wagner, of Michigan. The Lakers' official Twitter account sent out eight different Tweets introducing and/or welcoming Mykhailiuk to the Lakers and also posted a short phone interview that Mykhailiuk conducted with local media shortly after the Lakers made him the No. 47 pick on Thursday night.
"Oh, man, it feels great," Mykhailiuk said during the conference call with L.A. reporters. "I feel like it's just a blessing to be part of the Lakers and be part of the NBA. With all of the history the Lakers have, I think it's just a blessing to be a part of the team."
As for what he thought inspired the Lakers to select him, Mykhailiuk pointed to his strong individual workout before the draft and used the opportunity to list his strengths once again.
"I think I proved to them that I can do more than shoot," he said. "But for sure they think I can shoot the ball really well. Now days in the NBA everybody's trying to find players who can shoot and I have a pretty decent stroke and I can knock down shots. But the Lakers just got not only a shooter, I can do way more than just shoot."
Lakers GM Rob Pelinka, during his post-draft press conference, said the directive from Lakers' president of basketball operations, Magic Johnson, was to add more shooters to the roster during this year's draft.
"Magic has preached over and over again adding shooting to our core," Pelinka said. "(Mykhailiuk is) a 20-year-old player that was really one of the best knock down shooters we had in our building during the draft process. Beautiful stroke. And a tough guy. We added shooting and guys that know how to play the game the right way. (Lakers coach) Luke (Walton) was incredibly excited with the choices, and we're just thrilled with the way the night ended for us."