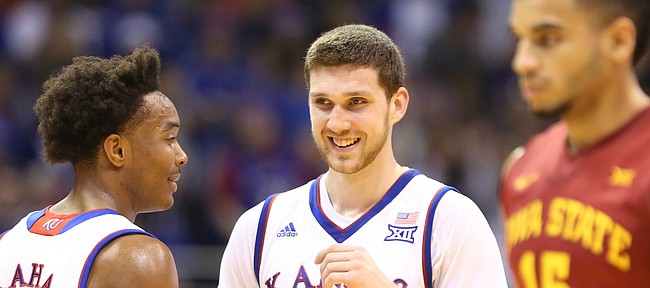 He was seated in the stands at Barclays Center in Brooklyn, New York, with his agent, coach from Ukraine, parents and girlfriend, when former Kansas guard Svi Mykhailiuk heard his name called in this year's NBA Draft on Thursday night.
With the 47th pick in the 2018 NBA Draft, the Los Angeles Lakers select Sviatoslav Mykhailiuk, Kansas.
With that, the former phenom who carved out a memorable career during his four years in Kansas reached the point that many thought might come two or three years earlier.
Reports of Mykhailiuk delivering one of the best individual workouts the Lakers had seen in the past few years surfaced during recent weeks and the shooting guard from Ukraine now will bring his sweet stroke to Southern California.
Mykhailiuk became the second former KU player drafted on Thursday night, joining teammate and best friend, Devonte' Graham, who was selected No. 34 overall by Atlanta before being sent to Charlotte.
While starting 70 of the 136 games in which he appeared during his four seasons with the Jayhawks, Mykhailiuk earned second-team all-Big 12 honors as a senior while averaging 14.6 points per game, shooting 44.4 percent from 3-point range and flashing more of a complete all-around game, which NBA scouts and brass questioned during his time testing the waters without an agent following his junior season.
A legit 6-foot-8, with good size and underrated athleticism, Mykhailiuk was one of the bright spots of the pre-draft combine scrimmages, scoring 20 points on 6-of-9 shooting from 3-point range during one game and continuing to shoot the ball throughout the week during drills and live action.
Mykhailiuk's negative wingspan — which means his arms extended are shorter than his height (6-5 vs. 6-8) — was viewed as a reason to downgrade his status, but his standing as one of the best pure shooters in the draft class clearly inspired the Lakers to overlook that. ESPN's Jay Bilas even referenced the wingspan issue during Thursday's broadcast.
Throughout the past several weeks, Mykhailiuk has worked out with nearly a dozen different teams, each time trying to prove to them and anyone watching that he is more than just a shooter.
But there's little doubt that Mykhailiuk's easiest path to a long and rewarding career in the NBA is through his right hand the deadly jumper.