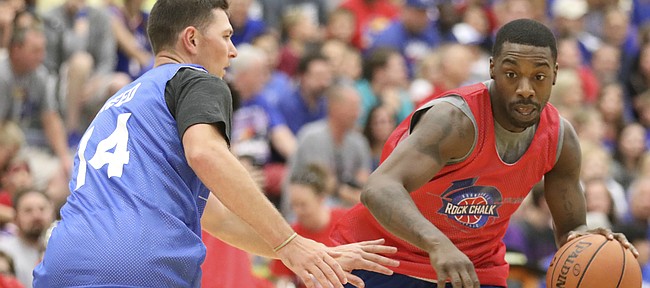 When Elijah Johnson began contemplating his summer plans while playing in Israel this past season for Galil Gilboa, the former University of Kansas guard thought he wanted to include some form of a youth basketball camp in his off-season calendar.
Johnson also recognized if he were to add one such experience to his agenda, upon returning to the area where he played college basketball, he wanted to give it an uncommon spin.
"I didn't want it to be a cliche thing. Three hours. Take a lunch break. Three more hours. Sometimes you lose those kids' attention with that," Johnson explained, referencing some youth sports camp formats.
That's when he dreamt up his "Too Strong Tour." Johnson's barnstorming concept began with the idea of visiting towns around Kansas that are far enough away from Lawrence that it makes getting to Allen Fieldhouse to catch a game in person somewhat difficult. From there, he decided it would become more appealing for fans if crowd members could participate.
"I just wanted to create something that's not necessarily a kid has to go to basketball camp and deal with it for six hours," Johnson went on. "But he can come and have fun for an hour or two, win some prizes."
So the notion evolved. Both kids ($5 for anyone under the age of 15) and adults ($10) can take in the tour, which opens at 6 p.m. Monday at Shawnee Mission South, in Overland Park.
Yes, Johnson realizes people from that area can make the trek to Lawrence rather easily, but other upcoming stops will include Parsons, Arkansas City, Wichita, Concordia and Hutchinson. What's more, Johnson hopes the tour can grow to include additional destinations next summer.
What can KU basketball fans expect from the event? Well, Johnson said activities include a multiple shot challenge, free-throw contest, 3-point contest, trivia games, a dance contest, prizes, an autograph and picture session, and a raffle for a chance to play in a five-on-five game with Johnson (each family receives one free raffle ticket at the door).
"It's going to be different," Johnson promised.
Plus, a few special Jayhawk guests will accompany Johnson to each stop. He said Sherron Collins, Mario Chalmers, Jamari Traylor, Travis Releford, Connor Teahan and Tyrel Reed are among the former KU players whom he plans to involve at various points.
Further details of the "Too Strong Tour" can be found on Johnson's Instagram page, @easyonefive.
Monday's stop at SMS is scheduled to run from 6-8 p.m. Tickets can be purchased at the door.
Elijah Johnson's "Too Strong Tour"
• Monday: Shawnee Mission South High, in Overland Park, 6-8 p.m.
• Wednesday: Parsons High, 6-8 p.m.
• Thursday: Arkansas City High, 6-8 p.m.
• Friday: Maize South High, in Wichita, 6-8 p.m.
• Sunday: Concordia High, 6-8 p.m.
• June 25: Hutchinson Middle School, 6-8 p.m.