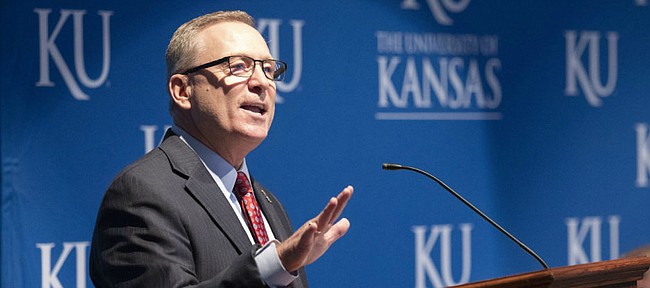 One of the big reasons Jeff Long decided to take the job as Kansas athletic director was the opportunity to address and improve KU's struggling football program.
If he had it his way, Long probably would be attending a football game tomorrow, shaking hands with donors, welcoming fans to Memorial Stadium and hoping year four of the David Beaty era gets off to a strong start.
But KU's quest for an increased win total and stadium renovations will have to wait for another day. Long has to get settled in first.
Wednesday is Long's first day on the job. And while that might sound exciting and worthy of some kind of official recognition, day one figures to be pretty tame.
Think, setting up his office, learning how to log in to the KU computer system and seeing how many names and faces he can remember from his one-day KU experience back on July 11.
Although his family spent part of the time between then and now on vacation at Yellowstone National Park, there's little doubt that Long spent at least some of that time learning as much as he could about the KU athletic department.
Anything he did, whether it was looking over numbers, talking to current and former employees or simply reading what has been written, will give him a head start on his new gig.
But the bonus time is over. The race begins now. And, from the sound of it, Long is raring to go. With that in mind, let's take a quick look at five areas of the job that might be at or near the top of Long's priority list as he officially begins his time as KU's newest AD.
1. Heavy football evaluation – The timing could not be better for Long, who will be starting his job the same week that Beaty and company get preseason camp underway. The next few weeks figure to feature a mixture of Long watching practice in person, watching from a distance and meeting with Beaty one-on-one to get a better feel for the state of Kansas football. But conducting that kind of evaluation at the outset of a brand new season is a huge advantage and gives Long a real shot at a thorough evaluation of exactly where things stand today.
2. Staff organization – This one could take some time. And, from the sound of things, Long is not coming to KU planning to send people packing right away. But any time an organization goes through a change in leadership, history has shown that some people leave and new faces arrive. Long has as long as he wants and needs to determine exactly how his staff is organized. But the guess here is that he'll want to tweak the most important parts of it sooner rather than later.
3. Get to know KU's donors – A fair amount of this probably already has taken place. And Long's first few weeks are going to be full of meetings. Heck, day one will be one big, extended meeting, with names and faces changing but the agenda being the same — helping Long get the lay of the land. But some of the most important meetings he will have during this transition to Kansas will be with the people KU needs to open their checkbooks to help Long get football going again. An AD or head coach's time at a university can be made or broken on his relationships with donors. And while Long's contract dictates that he will have plenty of time to build real relationships with these folks, his opportunity to make a good first impression will only be around a little while.
4. Observe and learn – While Long no doubt has a vision for what he wants the Kansas athletic department to look like under his watch, moving too quickly on any of that could be a mistake. One of the best things Long could do for a while is to sit back and listen, observe how things run now and learn from it. People often are eager to talk in great detail with the new guy about their thoughts on how things run — or should run — and what they think could be done to improve things for the future. Let them. Just about everyone Long comes in contact with during his first few months on the job will know a lot more about KU and its history, as well as its strengths, weaknesses and needs than Long. Talk about valuable resources to help get the train rolling.
5. Start moving on a softball hire – Last week, KU softball coach Megan Smith left Kansas to take the head coaching job at Marshall. So don't be surprised for a second if Long's first official coaching hire comes from softball. Although the 2019 season is still several months away and Rich Wieligman is in place as the program's interim head coach, identifying the right person to move that program forward surely will demand some of Long's early attention. Remember, Long is a man who considers himself "an all-sports guy," and he's not going to let one of his programs operate in the dark for too long without a plan for the future. Although Long's softball hire might not offer any hints about what he will do with future hires, it's worth paying attention to in case any philosophical clues emerge.