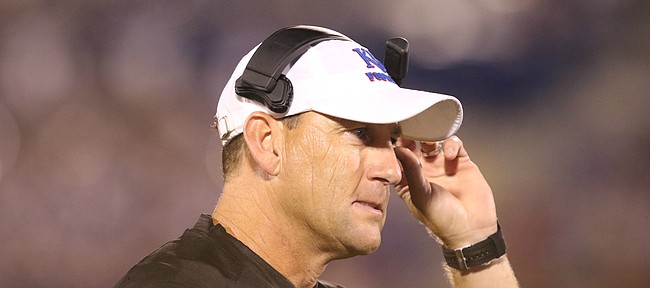 As Jeff Long heads into his first official day on the job at the University of Kansas on Wednesday, one of his most visible new employees, David Beaty, looks forward to formally introducing the new athletic director to the ins and outs of the football program.
In the midst of the Jayhawks reporting to preseason camp on Thursday and going through their first practice on Friday, Beaty said recently he would "welcome" Long to survey the program up close in the weeks and months ahead.
"He's still the AD, and he's got more responsibilities than just us. But I welcome him to be around," KU's fourth-year head coach said. "Matter of fact, I think that it's good for programs to walk hand in hand, for him to get to know our coaches, our players, how we're conducting business on a day-to-day basis for himself, so he can see it and nobody's having to tell him. I welcome that. And I welcome that because we're not afraid to get better — we're not afraid of that. We're not afraid of the challenge that we face."
Although the public perception surrounding Beaty's job security, as he has acknowledged, may be that the 3-33 coach will have to produce some form of a breakthrough season in order to inspire Long to keep him around for 2019, Beaty maintains he is excited about what the presence of the former Arkansas and Pitt AD will mean for KU.
"The guy's been around a lot of good ones, and I know that he can bring something to help us in some way that's going to help make us better. So I welcome that," Beaty said. "I think that's a great relationship between the head coach and an AD. I know it's always difficult because an AD has a job to do that requires so much, but I'd love to have him over there as much as he wants to be and as much as we can possibly get him there, because I think it's important for him to see those men, our people, work for himself."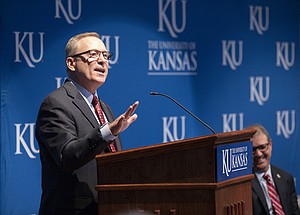 During Long's introductory press conference a few weeks back, he identified one of his primary objectives as removing obstacles that may impede all KU head coaches, so that teams would be able to compete not only in the Big 12, but also nationally.
In Beaty's initial phone conversations with his new boss, the football coach said the two discussed some potential impediments to the program's success.
"He's been in a very competitive league, just like the Big 12. As far as facilities and the different things," Beaty shared, "the way that he wants to be able to support us initially is just understanding maybe what our needs are and getting a better look at what our facilities have and really using his experience to be able to say, 'Hey, listen. We had this here. I've seen this here. I traveled here. These guys have this. They're doing this, it might be the next cutting-edge thing.' So, as far as those obstacles, I think we all understand that facilities is kind of one of the things that stands in the way for a lot of people. But there's a lot more to that, too, that he brings to the table."
While at Arkansas, Long oversaw the installment of the Fred W. Smith Football Center, an 80,000-square-foot facility that housed the Razorbacks' locker, meeting, training and equipment rooms; a lounge and study area; coaches' offices; and more. Beaty said he admired what Long accomplished at his previous job.
"We haven't gotten to talk about those things yet, he and I, but I've studied most of the places in the country, and they did some really unique things under his leadership," Beaty said, "that I think really helped in recruiting. And they help when it comes to attracting athletes. And they gave his coaches an advantage."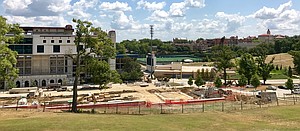 Months before KU chancellor Douglas Girod fired him, former athletic director Sheahon Zenger announced a $350 million fundraising campaign focused on upgrades to KU football facilities, including massive renovations to what is now known as David Booth Kansas Memorial Stadium, following the KU alumnus and benefactor's $50 million pledge to the project.
Construction began in April on a new football-only indoor practice facility, to the west of the stadium that opened in 1921.
KU initially announced a completion target date for the indoor practice center as "late fall" of this year. An athletic department spokesperson told the Journal-World Tuesday the facility now is expected to be done in late December.
Beaty anticipates Long will bring useful knowledge regarding such projects with him to KU.
"He's maybe seen 77 different facilities," the football coach estimated, "as we look at renovating our facility. Just a guy with his experience has seen so much and done so much when it comes to renovating and the things that an AD has to do."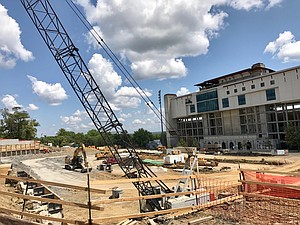 The new man in charge and the embattled coach still had not met in person on the eve of Long's start date. But Beaty said a couple weeks back their initial interactions have been "great," and he enjoyed getting to know his boss a little through phone conversations.
"He's been very professional and vey accommodating and, man, just easy to talk to," Beaty attested. "I love the fact that he's very direct and very easy to talk to. You can tell why he's so good at what he does. We've had very little that we didn't really just kind of shake heads at each other, going, 'You know, that's something that we believe in.' It really feels like there's a lot of things that we share when it comes to that."
As Beaty prepares his fourth KU football team for the upcoming season, he expects to spend "a lot more time together" with Long.
"And I'm sure both of us will be able to make our place better," the coach added.