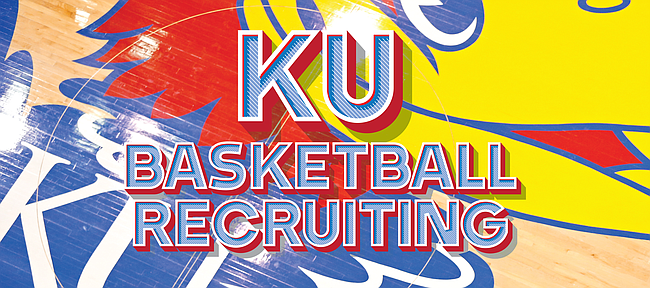 After a furious month of live evaluation, Kansas basketball coach Bill Self and the rest of the college basketball world are set for a little break.
Self, who spent time at marquee AAU events in Las Vegas and Overland Park last weekend, now will shift gears into a quiet period, which begins Wednesday and runs through Sept. 8.
A quiet period is different than a dead period in that coaches can still have limited contact with recruits during this time, but are not allowed to have any in-person contact with athletes or parents outside of the coach's own college campus.
The athletes themselves are allowed to visit campuses to meet with coaches and also can be contacted via the written word or telephone.
Several of the top players in the Class of 2019 are preparing to use the next month to line up their official visits for the fall, and Self and his staff are continuing to evaluate their needs and wish lists.
NCAA rules prohibit coaches from discussing specific prospects until they have signed, but Self was able to discuss his program's general recruiting plans for the coming months.
"We know we need to sign a high-quality wing, we know we need to sign a high-quality big and we know that we need to get a high-quality guard that can stroke it," Self said during a recent phone conversation with the Journal-World. "We know those things, so those would be the initial thoughts going in. If we could get three, that would be the direction that we want to go."
With just one senior on the roster and one scholarship currently unused thanks to the recent departure of guard Sam Cunliffe, KU, at this point, is only guaranteed to have two spots to fill in the 2019 class.
But with big man Udoka Azubuike having tested the NBA waters this offseason and power forward Dedric Lawson and Quentin Grimes also showing up as options in the 2019 NBA Draft, KU could have a fairly large class to fill when it's all said and done.
"It's probably crazy to say six, but five is possible," Self said when asked about the expected scholarship count for the 2019 class.
One of those scholarships is already ear-marked for Class of 2019 point guard Markese Jacobs, a 5-foot-11, 170-pound Chicago native who committed to KU two years ago and, on Sunday, hit two game winners in the same day for his AAU team, Mac Irvin Fire, at last weekend's Summer Jam event.
During a recent interview with Scott Burgess of PrepHoops.com, a smiling Jacobs said he had been working hard to convince Class of 2019 wings Josh Green (5-star, 6-5, No. 10 per Rivals.com) and Malik Hall (4-star, 6-8, No. 50) to join him at Kansas. And the KU staff, which was all over the map last weekend tracking some of the top recruits in the country, continues to spend serious time going after five-star forwards Jeremiah Robinson-Earl (6-9, 235, No. 9) and Matthew Hurt (6-9, 200, No. 5), among others.
While the uncertainty of how many spots KU will ultimately have available could create a headache, Self said he liked the flexibility that comes from being able to add players at all positions.
"A lot depends on if we have two bigs leave and who all leaves," he said. "But if we can get a good guard, a good wing and a good big, I would say that would be what we're thinking right now."
Once the full recruiting period starts again on Sept. 9, it will remain open — with contact and visits all allowed — through March 31, 2019, with the exception of a four-day dead period Nov. 12-15 and a three-day dead period Dec. 24-26.
The early signing period for the Class of 2019 is set for Nov. 14-21 and the regular spring signing period opens April 17, 2019.