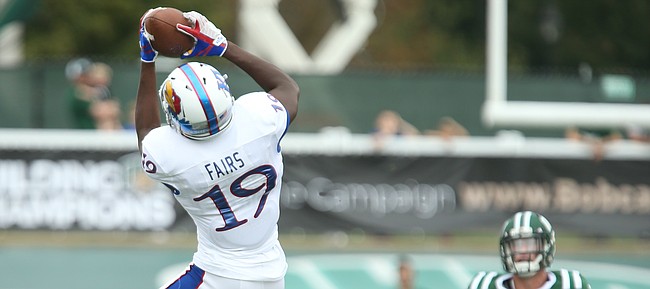 When the Kansas football team makes its season debut on Sept. 1, a few Jayhawks the program's followers got used to watching in certain uniform numbers will take the field sporting new digits.
After breaking out as a complementary receiver wearing No. 19 as a sophomore, 6-foot-3 junior Evan Fairs will run his routes in a No. 3 jersey this fall.
The man responsible for 74 of KU's 224 points in 2017, kicker Gabriel Rui, is switching from his old No. 39 to No. 7 for his redshirt senior year.
Meanwhile, the speed linebacker Kyron Johnson showed off wearing No. 9 as a true freshman will now be displayed with a No. 15 on the 220-pound sophomore defender's chest and back.
Six other Jayhawks also opted to switch up their number assignments for the upcoming season.
A junior college transfer in his first year with the program, sophomore safety Davon Ferguson, who wore No. 19 during spring practices, will don No. 7 when he plays his first game as a Jayhawk.
Likewise, true freshman offensive lineman Nick Williams, who enrolled early to participate during the spring, already has given up No. 77 and currently is listed as No. 70.
Junior cornerback Julian Chandler traded in No. 25 for No. 10.
Sophomore punter Kyle Thompson exchanged No. 38 for No. 80.
A redshirt freshman kicker, Cole Brungardt swapped No. 37 for No. 90.
Sophomore defensive end Sam Burt replaced the No. 97 he wore in the spring with No. 93. Burt was No. 94 as a freshman.
Details on new Jayhawks
KU updated its 2018 roster for the first time since the spring semester earlier this month, unveiling the jersey numbers and measurements for its newest players, who arrived in the summer as either freshmen or transfers.
Document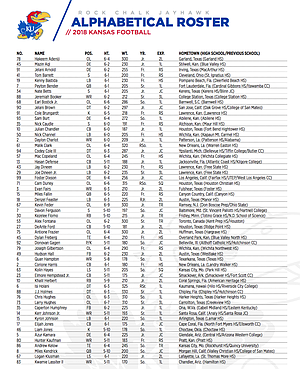 From touted additions such as Louisiana running back Pooka Williams to unheralded walk-ons, below, in numerical order, are the details on the program's most recent additions. (Reminder: 10 newcomers, such as true freshman cornerback Corione Harris and sophomore quarterback Miles Kendrick, participated in the spring.)
• No. 1: Pooka Williams Jr. — freshman RB, 5-10, 170; Hahnville High (La.)
• No. 5: Azur Kamara — sophomore DE, 6-4, 225; Arizona Western College
• No. 13: Billy Maples — freshman QB, 6-2, 220; Park Hill H.S. (Mo.)
• No. 17: Elijah Jones — junior CB, 6-1, 175; Ellsworth Community College (Iowa)
• No. 19: Kenny Bastida — freshman LB, 6-1, 230; Deerfield Beach H.S. (Fla.)
• No. 23: Elmore Hempstead Jr. — junior CB, 5-11, 175; Fort Scott C.C.
• No. 26: Cody McNerney — freshman S, 6-1, 200; Wichita Collegiate H.S.
• No. 39: Ryan Malbrough — freshman RB, 6-1, 180; Cecilia H.S. (La.)
• No 45: Dylan Freberg — freshman TE, 6-4, 210; Blue Valley North H.S.
• No. 50: Nick Channel — freshman LB, 6-0, 205; Kapaun Mt. Carmel H.S.
• No. 51: John Lillig — freshman LB, 6-3, 225; St. Pius X H.S. (Mo.)
• No. 53: Alex Fontana — senior OL, 6-2, 300; University of Houston
• No. 57: Mac Copeland — freshman OL, 6-4, 245; Wichita Collegiate H.S.
• No. 58: Brian Lipscomb — senior LB, 6-2, 232; Virginia Military Institute
• No. 59: Jack Murphy — freshman OL, 6-9, 291; Rockhurst H.S. (Mo.)
• No. 64: Jalan Robinson — freshman OL, 6-3, 280; Free State H.S.
• No. 67: Kevin Feder — junior OL, 6-9, 300; Ohio State
• No. 69: Spencer Roe — freshman OL, 6-4, 270; Free State H.S.
• No. 70: Jacobi Lott — freshman OL, 6-4, 309; Tascosa H.S. (Texas)
• No. 84: Jack Parks — freshman TE, 6-5, 230; Olathe Northwest H.S.
• No. 90: Jelani Brown — junior DT, 6-2, 297; College of San Mateo (Calif.)
• No. 92: Donovan Gagen — sophomore P/K, 5-11, 180; Hutchinson C.C.
Only Lillig and Gagen — presumably walk-ons — were previously unaffiliated with KU and not widely known to be recruits.
A few subtractions
The up-to-date roster no longer includes the names of two short-lived Jayhawks who didn't join the program until this past spring as walk-ons: Damon Jackson, a linebacker from Kansas City, Kan.; and Blaine Boudreaux, a linebacker from nearby Mill Valley High.
Additionally, defensive lineman Dai Coye Haley, a walk-on from Atchison who redshirted in 2017, is no longer on the team.
In total, 10 players — most of them previously reported — who were at least listed as with the program in the spring are no longer on the roster: receiver Bobby Hartzog Jr., tight end Kenyon Tabor, defensive end Josh Ehambe, running back Taylor Martin, fullback Quentin McQuillan, offensive linemen Jacob Bragg and Charles Baldwin, Jackson, Boudreaux and Haley.