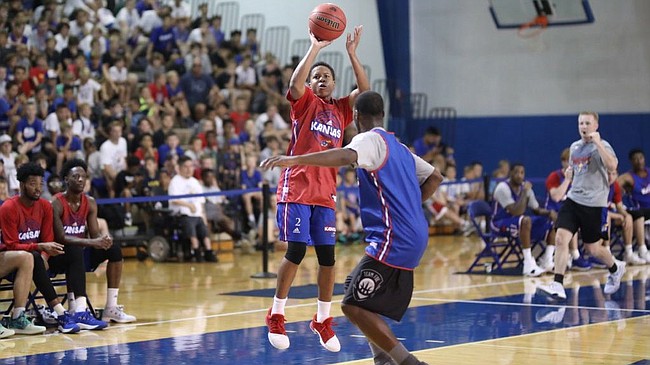 The last time Kansas point guard Charlie Moore hopped onto a plane bound for Italy, he carried a much different approach than the one he has today.
Expected to arrive on Italian soil later this week, for an overseas stint for the second summer in a row, Moore will be playing a handful of games with one of four squads participating Aug. 2-9 in the USA East Coast Tour of Venice.
Last year, Moore played an important role on a KU team that rolled to four victories in four tries against Italian teams in Rome and Milan. The Cal transfer averaged 7.8 points per game and was second with 15 assists, while recording seven steals and averaging 2.5 rebounds per game, as well.
While contributing to his new team in a foreign country was a blast for Moore, it also was bittersweet because Moore knew then that his next chance to play for real was still more than a year away.
This year, Moore knows that his return to the states will bring with it the unofficial start of his Kansas career.
"Different mindset," Moore told the Journal-World. "Knowing that I wasn't going to be able to play after Italy last year was tough for me, but I stuck it out and I'm here today."
Moore's 2018 team, like the one he played for in Italy in 2017, will be coached by a Hall of Famer, former KU head coach Larry Brown. It features 11 other college players from programs as big as Purdue, Colorado, South Carolina and SMU, and as small as Abilene Christian and UNC Greensboro. Moore said bonding with those players, while also trying to sharpen his point guard skills, would carry equal importance during the next 10 days.
"Building that bond and friendships is important," he said. "After I come back from Italy, I'll be more conditioned, from playing in those games, and I'll be ready to play."
Last summer's trip to Italy marked Moore's first time out of the country. But having done it once, he was not as anxious about round two.
"It's just the flight's so long," Moore joked. "But I'm not really that worried about it."
Not only will being reunited with Brown mark a reunion for the two from last year's Final Four, when Brown spent time around the KU program in San Antonio, but it also will be a bit of a return to Moore's recruitment.
"That's my guy. He recruited me at SMU," Moore said of Brown. "I talked to him a little bit, just about going out there and practicing and stuff like that. It was just small talk, really. I'm just focused on going out there and learning. Playing under coach Larry Brown, a Hall of Fame coach, it's just going to be important to me to go out there and learn and get better and get ready for the season.
"My goal is just to win, just as if I was here at Kansas. Winning is a big thing to me and I know this trip is definitely going to make me better."
More like this story on KUsports.com