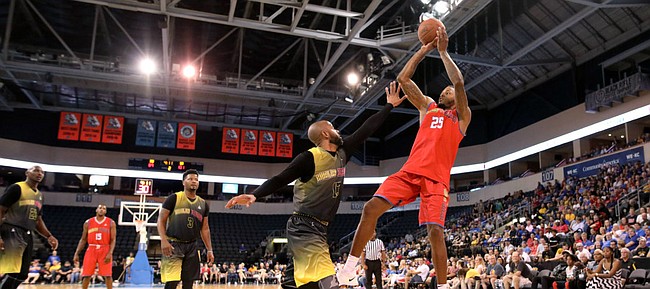 Independence, Mo. — Of all the memorable moments and big games he had against the rival Missouri Tigers during his three-year KU career, former Kansas great Brandon Rush never did anything quite like this.
As one of the headliners at Saturday night's "Rivalry Renewed" alumni game at Silverstein Eye Centers Arena, Rush exploded for 46 points, including eight 3-pointers to lead the six-man Kansas team to a 109-101 victory over the eight-man Missouri squad.
Photo Gallery
Rivalry Renewed: KU-MU Border War Alumni Game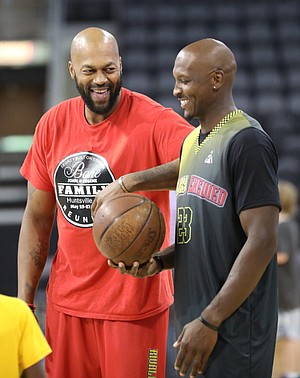 Rivalry Renewed: KU-MU Border War Alumni Game
The idea going in was for Kareem Rush to match up with his brother, Brandon, as often as possible, bringing a significant sibling flare to Saturday Border War showdown.
"It's only Brandon. That's all I see tonight. I want him to guard me, I'm going to guard him. It's going to be fun," Kareem said before the KU victory. "I never got to play against him in college. We played a few times in the NBA before I hurt my knee, but to have my black and gold on and him to have his red on (was) fun."
Most of Rush's damage came during the first half, when he hit 3-pointer after 3-pointer, stepping out a little deeper each time, to help Kansas build a 36-22 lead midway through the half. The Tigers, who were led by 34 points from Leo Lyons and 26 from Stefhon Hannah, crawled back into it with a 26-11 run and, by halftime, had tied the game at 54.
The former Jayhawks struck early in the second half, building a small cushion of 6-8 points, and massaged that the rest of the way, with Mario Chalmers (21 points), Rush and Travis Releford (16) — as they used to do back in their playing days — making sure the Tigers never threatened down the stretch.
Rush, a 10-year NBA veteran who sat out the 2017-18 season without a contract, said it felt good to get back into a competitive game. The fact that it was against a bunch of former Mizzou players and his brother, merely was icing on the cake.
Rush is now 6-1 all-time against MU, holding a 20.3 points per game average in the Border War.
"Man, it just comes from repetition," he said of his hot hand. "I've been out this whole year, so all I've been doing is shooting the ball. Got a chance to play, got some open looks and it went in. Everything was going in tonight. I felt like I was on fire."
After the game, Rush, a former lottery pick who recently had his jersey retired by KU, said he hoped to continue his NBA career next season by landing a free agent deal for an 11th season.
"I just need to get a shot again," he said. "If I can get my foot in the door, I'm pretty sure I could make a team happy."
There was plenty about Rush's game on Saturday night that made the KU fans in attendance plenty happy. While things remained civil and only got contentious when the split crowd of roughly 2,500 fans broke into dueling Rock Chalk and MIZ-ZOU chants, it was clear in all corners of the arena that no one on either side wanted to come out on the wrong side of this one.
"I'm going to talk to my KU fans tonight and see how they feel," Chalmers said before the game. "I know we can't lose, but I'm going to see how bad they want us to beat them."
Added Releford: "We can't lose it and have these guys bragging about it. No chance at that."
Although Saturday's experience was decidedly different than anything they encountered while in college, players from both sides said the competitiveness reached a high level midway through the first half, when both teams had settled in and were still playing with fresh legs. By the second half, the short benches and heavy minute loads took a toll on both teams.
Releford, who is still in the early stages of his pro career overseas, was the lone player in the gym on Saturday night who was still playing college ball the last time KU and MU hooked up for real. That came on Feb. 25, 2012, in an epic game that featured one of the greatest KU comebacks of all time, and KU came out on top, 87-86, giving the Jayhawks bragging rights for life.
Since that time, the Jayhawks and Tigers have faced off one other time — KU won an exhibition game last season at Sprint Center for hurricane relief — but neither that game nor Saturday's came anywhere close to reaching the fevered pitch and raw emotion experienced in 2012.
"Of course it's not like college," Releford said. "But this is fun for the fans that are really dedicated fans who enjoy seeing KU and MU get back together for anything. That (2012 game is) probably going to be an all-time classic game. If people ask about the best games I played in in college, that one and, of course, the Final Four (vs. Ohio State and Kentucky in 2012) are the first that come to mind. Once it went :00, I ran to the scorer's table, stood on it, took my jersey off and waved it around because that was a tough game for us. Guys want to win no matter what; if it's one-on-one or whatever. So to be able to do this for the city and bring back a little bit of the rivalry that always meant so much to so many people, I was all about it."
Despite that inner desire to always help their school get the upper hand, the guys who came together for the inaugural Rivalry Renewed game, shared the common bond of wanting to raise money for a good cause. Proceeds from Saturday's game will go to benefit the Boys and Girls Club of Greater Kansas City, Kareem Rush's Rush Forward Foundation and the This Too Shall Pass charity. And that underlying theme of the night helped this group of Tigers and Jayhawks set aside any bitterness about the rivalry in order to put on a good show for a good cause.
"I go back a long time with that family," Chalmers said of his automatic yes answer when Kareem called him and asked him to get involved. "You know, me and Brandon are best friends, so anything Kareem needs me to do, I'm always willing to help their family and they do the same for my family and my foundation."
That attitude, which was shared by all of the players and hundreds of fans in the stands on Saturday night, was exactly the vision Kareem Rush had when he teamed with Steve Gardner and Intercom to put the game together.
"We had a great turnout tonight and hopefully we'll be able to grow this thing into an even bigger and better event in the future," Kareem said. "To go from concept to actually execution is pleasing. We put a lot of work into this and to see it finally come together is a great thing."
As for his individual battle with his younger brother, Kareem, who scored 14 points in the loss, could do nothing but smile when asked about Brandon Rush's big night.
"I'm proud of him," Kareem said. "He got 50 on me."
While Saturday's game featured far more hugs, high-fives and handshakes than any KU-Missouri games from the past, don't think for a second that the Jayhawks who watched and played did not leave the arena with their heads held high and their chests puffed out.
"It still has meaning," a smiling Brandon Rush said after the game. "These guys played in that rivalry. It means a lot to us and it means a lot to them, too. It feels good to get back out here with my guys and play against those guys again."
Kansas 109
Brandon Rush 46, Mario Chalmers 21, Travis Releford 16, Brady Morningstar 12, Tyrel Reed 11, Jeff Graves 3.
Missouri 101
Leo Lyons 34, Stefhon Hannah 26, Rickey Paulding 14, Kareem Rush 14, Johnnie Parker 7, Julian Winfield 4, Keyon Dooling 2, Rob Steward 0.
More like this story on KUsports.com