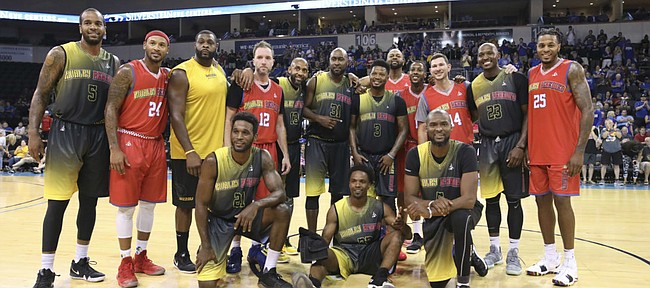 There have been a number of memorable moments during the historic rivalry between Kansas and Missouri.
For former Tiger Keyon Dooling, though, one play still stands with him 18 years later. Moments before the scrimmage between alums from both schools — a game dubbed "Rivalry Renewed" — Dooling reflected on the greatest dunk that never happened.
"People still enjoy the play to this day," Dooling said Saturday night at Silverstein Eye Centers Arena in Independence, Mo., where the Jayhawks defeated the Tigers, 109-101 in an alumni game dubbed "Rivalry Renewed.""It's probably a defining moment, probably the most memorable moment that I've had in college as far as one play that sticks out."
The game Dooling is referring to is when Kansas hosted Missouri on March 5, 2000. Leading 22-19, Dooling pushed the ball up court on a fast-break attempt midway through the first half. Ashante Johnson of the Jayhawks was the only player between Dooling and the basket.
Photo Gallery
Rivalry Renewed: KU-MU Border War Alumni Game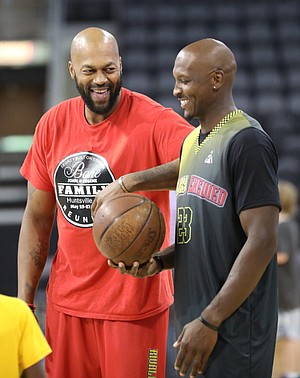 Rivalry Renewed: KU-MU Border War Alumni Game
Dooling attempted to leap over Johnson, who was moving himself into position in the lane, and Dooling threw down a vicious one-handed slam. As Dooling hit the ground, he looked up to see that the official had called a charge and negated the basket.
"Sometimes I think it is better that it didn't count, because I wouldn't have got that reaction," Dooling said. "It was some home cooking. There is no doubt that it should have been a blocking foul and an and-one."
Dooling reaction remains the best part of the near-emphatic dunk attempt, as he threw up his hands in disbelief.
Kareem Rush, who put together the event for Rivalry Renewed, actually posted the reaction on Facebook to help promote the event. Rush also played in that game, in which the Jayhawks netted an 83-82 victory.
"Keyon's expression was more memorable than the actual play," Rush said. "When you think about iconic plays in Missouri history, you know that the charge didn't count. It was definitely one of the most memorable moments."
However, former teammate Johnnie Parker doesn't believe that Dooling should have even put himself in that position. Parker admitted that he was open for the alley-oop on the backside during the fast break.
"If you go back and look at the video, I was open for the alley-oop," Parker said. "That was a dunk he does all the time. The way they called it a charge, it just wasn't fair. We just knew them calling it a charge that it wasn't even."
The near-dunk was just one of many iconic moments from a rivalry that has been nonexistent since KU's epic comeback victory at Allen Fieldhouse on Feb. 25, 2012.
Rickey Paulding, who played for the Tigers between 2000–2004, admitted that his favorite moment was when Missouri pulled off a 68-63 victory over Kansas in the semifinals of the Big 12 tournament in 2003.
"You want to get to the championship anyway, but it made it that much sweeter to beat KU," Paulding said. "It was back and forth. I just remember the feeling after getting that win. It was a game that meant something to us."
Parker's favorite memory of the Border War occured the year before he even stepped on the court for the Tigers. As a senior in high school, Parker was on a recruiting visit when he watched Corey Tate drill the game-winning shot to knock off No. 1 Kansas in double overtime in 1997.
The win was enough to to seal the deal for Parker, who then played for the Tigers from 1997 through 2001.
"That was really special to me, because it helped me out in making my decision to go there," Parker said. "We beat (KU) twice at Mizzou when I was there, so I also remember that."
In the end, though, all the former players agreed that they'd like to see the rivalry return to create more memories on the hardwood.
"There is a lot of history between KU and MU," Dooling said. "There are a lot of kids whose fondest memory is of this war. There are a lot of families divided because of this war. I would hate for the next generation of Tiger or Jayhawk fans to miss out on the rivalry that we have. Hopefully, this (event) will spark some interest for the colleges."
More like this story on KUsports.com