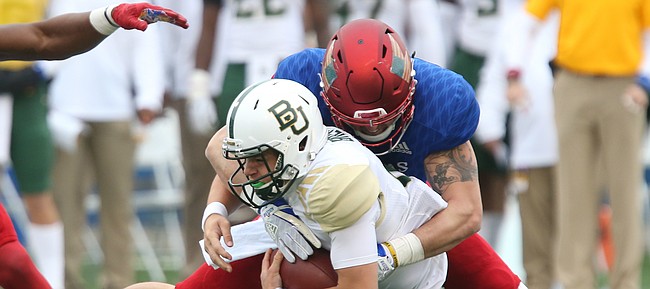 Kansas senior linebacker Joe Dineen Jr. was named one of 106 nominees for the 2018 Wuerfful Trophy Thursday.
The Wuerffel Trophy, known as "College Football's Premier Award for Community Service," is presented annually in Fort Walton Beach. The Wuerffel Trophy is awarded to the FBS player that best combines exemplary community service with athletic and academic achievement.
Dineen, who went to Free State High School, has raised awareness for childhood cancer and volunteered with organizations Just Food, Salvation Army and the Special Olympics, among others. In addition, he serves on KU's leadership team for its partnership with Team Impact, a national nonprofit that connects children facing serious and chronic illnesses with local college athletic teams, forming life-long bonds and life-changing outcomes.
Last season, Dineen led the Big 12 in total tackles (137), tackles-for-loss (25) and solo tackles (93) as a junior. His 7.8 solo tackles per game also led the FBS, while his 2.1 TFLs per contest ranked third in the FBS.