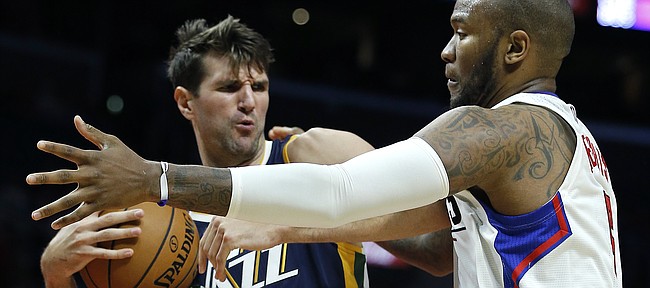 It's no secret that basketball has changed at both the collegiate and professional level.
There is an emphasis in today's game on shooting, and finding athletes to play along the perimeter. This has downgraded the need for the old-school big man, who plays with his back to the basket and clogs up the lane.
As a result, former Kansas center Jeff Withey can't help but marvel at the potential lineup for his alma mater. Head coach Bill Self will have plenty of size to work with during the 2018-19 season.
"I think (Self) will love it," Withey said in a recent interview with the Journal-World. "He's won a lot of games with it, so I don't see why he wouldn't love it. If we can rebound, box out and dominate the paint, we can get a lot of dunks."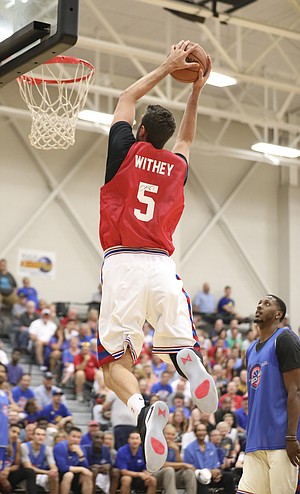 The Jayhawks, who are coming off a trip to the Final Four, will have six players listed 6-foot-8 or taller this year. They could even trot out a unit of three posts due to the versatility of some big men like Dedric Lawson, a 6-foot-9 transfer from Memphis.
Regardless, 7-foot center Udoka Azubuike will demand a lot of attention after an impressive sophomore campaign. Azubuike led the nation in field goal percentage with a 77 percent clip, which was the second-best mark in NCAA history.
Of course, a good chunk of Azubuike's scoring production came via dunks, which remains an efficient result despite the evolution of the game.
"You can't beat dunks," Withey said. "That's the best percentage in basketball."
In addition, Kansas returns 6-foot-8 junior forward Mitch Lightfoot, who has worked on his shooting touch this summer, and 6-foot-9 sophomore forward Silvio De Sousa. The Jayhawks will also be able to deploy freshman David McCormack (6-foot-10 forward) and redshirt sophomore K.J. Lawson (6-foot-8 guard) this winter.
After two seasons of embracing the small-ball concept, Self will have the chance to revert back to some of his old ways with this roster's length. Yet, it may take away from some of the team's offensive firepower.
According to KenPom, the Jayhawks have had the fifth-best adjusted efficiency on offense in each of the last two years. However, they posted the 47th-best defensive efficiency last season.
In fact, they haven't been in the top-20 since 2016, when the team boasted the third-highest defensive efficiency with a two-post approach.
"I think coach Self will figure out a way to make it work," Withey said. "We have always been a big-man school since I have been here. The way that everybody wants to play is just shooting the three-ball, but coach Self can find a way to pack down the paint and dominate there."
Withey started 75 combined games over his last two seasons with Kansas, developing an identity as a rim protector. Withey averaged 3.6 blocks per game during the 2011-12 season and produced a clip of 3.9 blocks per contest in 2012-13.
During Withey's junior season, the Jayhawks made a run to the National Championship before falling to Kentucky. That particular squad recorded the third-best defensive efficiency in the nation behind the two-post concept of Withey and Thomas Robinson.
Withey has since played in 206 games during a five-year career in the NBA. Last year, Withey appeared in nine contests for the Dallas Mavericks, following two-year stints with the Utah Jazz and New Orleans Pelicans.
But Withey signed a contract to play for Tofas Bursa, a pro basketball team in Turkey, earlier this week. It is the latest example of how basketball has grown, as it is one of the few places still reliant on big men rather than adopting the new-school approach.
"In Europe, they still play big," Withey said. "I'm up for anything. I just want to play basketball."