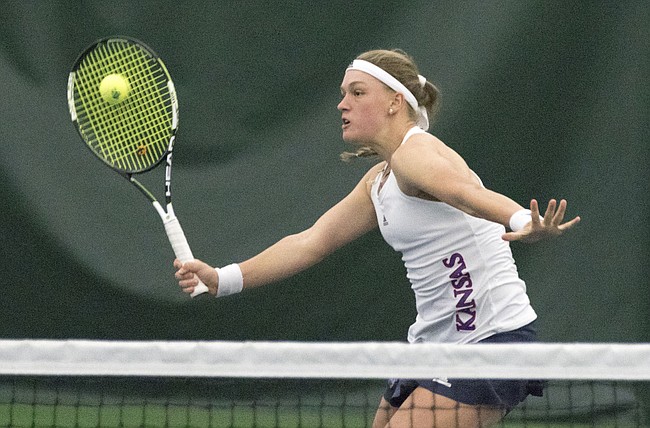 For Anastasia Rychagova and Nina Khmelnitckaia, who will be seniors this year, it seems like just yesterday that the two arrived in Lawrence from Moscow.
The dynamic duo has left its mark on the Kansas women's tennis college program in three short years. After not knowing anybody else when they first showed up, Rychagova and Khmelnitckaia are both determined to close out their college careers on a strong note for the Jayhawks.
Still, given how much their time at Kansas has shaped them, they say it is a surreal feeling knowing that they have just one season left.
"I can't believe that it has flown this fast," Rychagova said. "I just remember coming here and it was a lot at once. That was for sure a challenge. It was like Christmas all the time, there was just a lot of excitement when I got here."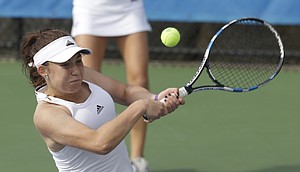 But Rychagova actually chose to come to Kansas after getting sold on the idea from Khmelnitckaia.
Kansas head coach Todd Chapman asked Khmelnitckaia on her visit if she knew anyone else that might come from Russia. One day later, Khmelnitckaia gave Rychagova's number to Chapman and told him to make the call immediately.
"I actually came because of Nina," Rychagova said. "She is the one who called me and told me I have to go."
However, not everyone recalls the story that way.
"I didn't say you have to go," Khmelnitckaia interjected. "I said you are coming with me."
Regardless of how they got here, the two have brought the program to new heights as a package deal since stepping on campus.
Khmelnitckaia and Rychagova were roommates for the first few months to help ease the transition, though Chapman then insisted both players room with another teammate to help improve their English.
In addition, the two players paired up with somebody else during doubles play in the first two seasons.
"The transition was hard," Khmelnitckaia said. "But it helped that we were together and we came here at the same time."
On the court, Khmelnitckaia and Rychagova stormed onto the scene during their freshman campaign.
Rychagova was tabbed All-Big 12 first team, Big 12 freshman of the year, Big 12 all-freshman team and ITA Central Region rookie of the year after recording 26 wins as a singles player and 28 victories in doubles play. Khmelnitckaia, who earned a spot on the All-Big 12 freshman team, notched 24 wins on the singles side and 28 wins in doubles competition.
Both players helped contribute to the team's first NCAA Championship invitation in 17 years.
"We didn't know anything about college tennis," Khmelnitckaia said. "We didn't know what to expect, but we just were ready to be here and ready to work. That was what was driving us. We wanted to get better on the court and off the court."
The two players have continued to roll in the accolades in both singles and doubles play over the last two seasons.
In her sophomore season, Khmelnitckaia teamed up with Bernard-Feigenbaum at the No. 1 spot to tally a 22-11 record, becoming the first KU pair to earn an at-large berth to the Division I Women's Tennis Championship since 1998. During her junior campaign, Khmelnitckaia notched a singles victory to help Kansas claim its first NCAA tournament win in 19 years.
As a sophomore, Rychagova tallied an impressive 25-8 overall singles record at the top spot and was named to the All-Big 12 singles first team. She labored through an injury-plagued junior year and held a spot in the nation's top-10 all season.
Rychagova and Khmelnitckaia even paired up this past season in doubles action, as they were named to the All-Big 12 doubles second team and advanced to the Round of 16 in the NCAA tournament.
"We always wanted to play together," Rychagova said. "But it didn't happen our first or second year."
Despite not playing together during their first two seasons, Rychagova and Khmelnitckaia had a seamless transition to sharing the court their junior year.
Rychagova and Khmelnitckaia understand their own strengths and weaknesses, and can even communicate in Russian throughout a match. And they hope to utilize that advantage during their final season with the Jayhawks.
"We are always on the same page," Khmelnitckaia said. "We are connected somehow and we know what play we are going to do. We know where we are always standing positionwise. We just really work together."