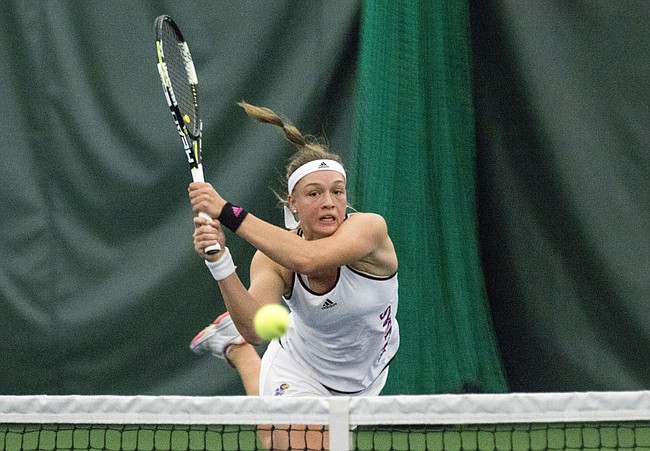 Kansas senior tennis player Nina Khmelnitckaia and KU alumna Despoina Vogasari were recipients of the Intercollegiate Tennis Association Scholar Athlete Award on Tuesday.
"We are so proud of Deb and Nina and their commitment to their academics," Kansas tennis head coach Todd Chapman said in a press release. "They both had tremendous years both on and off the tennis court."
In order to be eligible for the award, players must carry a cumulative grade-point average of 3.5 or higher, earn a varsity letter and be enrolled at their present university or college for a minimum or two semesters.
Along with racking up 22 wins in singles play and 20 victories with doubles partner Anastasia Rychagova, Khmelnitckaia earned a spot on the Academic All-Big 12 First Team. Khmelnitckaia and Rychagova reached the second round of the NCAA Doubles Championships last spring.
Vogasari posted a 25-9 mark in singles and notched a record of 22-11 in doubles between three different partners. The Houston transfer was selected as the Big 12 Newcomer of the Year at the end of her lone season with the Jayhawks.