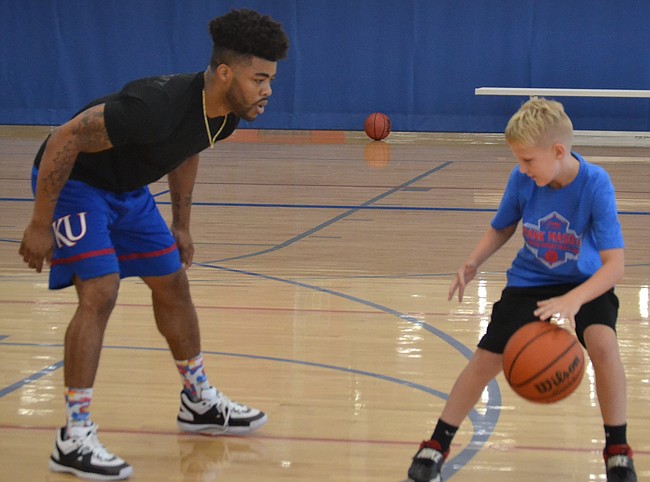 It was during his charity softball game in June that former Kansas guard Frank Mason III decided to seek reinforcements for another event in late July.
Mason asked Sherron Collins, a fellow former point guard, if he would be willing to help out with a youth basketball camp. Without hesitation, Collins agreed to serve as a special guest for Mason's youth basketball camp Wednesday at Sports Pavilion Lawrence.
Both former Jayhawks view the opportunity as a chance to give back to the community that ultimately helped shape them.
"I live here now, so it's like, why not volunteer my time?" Collins said. "It makes these kids' day. I just want them to know that we appreciate them just like they appreciate us."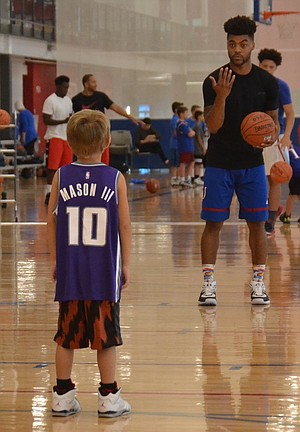 Mason was constantly in the spotlight throughout the camp, which included two different sessions. The first session, which featured kids between the ages of 7-13, lasted three hours. The second season also went three hours, as 14-17-year-old players competed in the event.
During the camp, Mason took turns playing each participant in a one-on-one drill. He also showed the younger participants where to stand along with some other fundamentals during a large scrimmage.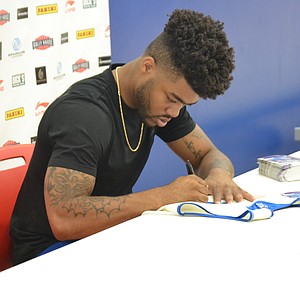 Mason, who is entering his second season for the Sacramento Kings, especially enjoyed seeing several participants sport his jersey.
"It means a lot," Mason said. "As a young kid, I envisioned all this. Just to make this happen and make my dream come true playing in the NBA. It's a blessing."
Mason also plans to hold a camp Thursday at Olathe Community Center, as well as a final event Friday at Wichita Hoops. Those interested can go to http://fm3basketball.com/ to register for the event.
Despite doing a number of these types of events before, both Mason and Collins said they continue to be blown away by the strong attendance seen at any event hosted by a former Jayhawk.
"It just makes you know the love that they have for us," Collins said. "We have been gone for years and they still come back to show their support. I think it is good to do things like this to show that we support them, too."
The dedicated support is the biggest reason Mason said he will continue to find reasons to return to Lawrence during his professional career.
In his first season, Mason played in 52 games (two starts) for the Kings after getting drafted in the second round. Mason averaged 7.9 points per game in 18.9 minutes per contest. He also shot 38 percent from the field, including a 36 percent clip from long range.
For Kansas, Mason played in 145 games (113 starts) and averaged 30 minutes per contest. As a senior, Mason averaged 20.9 points and 5.2 assists per game en route to winning Naismith Player of the Year.
As a result, Mason will continue to be a role model and popular figure for those in Lawrence.
"I love being here," Mason said. "I love coming back, this is my second hometown. I'm just grateful to have all these wonderful kids here and amazing parents for bringing them out. Hopefully, it is something we can keep doing."
More like this story on KUsports.com