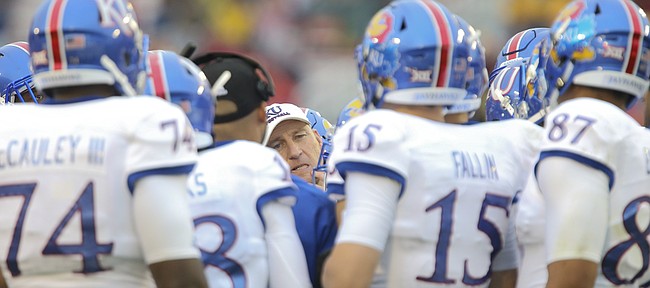 Two years ago, Iowa State's football program endured its fourth consecutive season with three or fewer victories.
Then, the Cyclones took off in 2017. They finished, 8-5, achieved an AP poll top-15 ranking at the height of their success and capped the run with a Liberty Bowl victory.
Eternal optimist David Beaty would like to see his Kansas football program mimic ISU's escape from the doldrums this fall.
Of course, significant differences exist between the current state of KU football and the circumstances surrounding Iowa State's recent breakthrough.
Entering 2018, Beaty is in the fourth year of his rebuild attempt, and Kansas has won three games or fewer each of the previous eight seasons.
When Iowa State began shocking the college football world close to a year ago, it was Matt Campbell's second season in charge, and the program hadn't experienced the same prolonged gloom as the Jayhawks.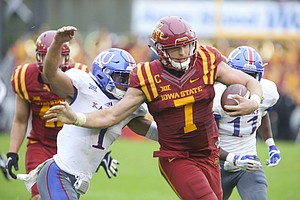 And because 2016, what proved to be the final year of ISU's rut, also was Campbell's first in Ames, Iowa, not much impatience accompanied the Cyclones' 3-9 showing — especially due to the competitive nature of many defeats, with three losses of seven or fewer points and another by 10.
Even a season with numerous single-digit setbacks would qualify as progress for KU in 2018, what with the Jayhawks closing Beaty's third year in charge with 11 straight losses, leading to season averages of 18.7 points per game scored and 43.4 allowed (14.3 scored, 46.4 allowed in Big 12 play).
But would Beaty be afforded such a luxury and receive credit for KU fielding its most competitive team in years, while suffering close losses? Or will victories be the only results that count in his favor?
Following a long pause at Big 12 Football Media Days, Beaty responded to those notions by saying, "I don't have the answer to that. And I can't concern myself with this. It's not going to change the way that we operate."
The presence of a new athletic director, Jeff Long, who starts Aug. 1, has fueled speculation about Beaty's job security moving forward, especially if the program doesn't turn a corner in the months ahead.
"I think what we will do is, we will go through this season with these opportunities to write it the way we want to write it. Right? As a team and as a staff, and at that point, regardless of what situation we're in, the administration and the powers that be have to make a great decision based on what is best for that university moving forward," Beaty said. "What is best for them in terms of what they think is going to help get that program to where it needs to be."
Beaty's sanguine nature leads him, though, to look to Iowa State and see a path toward improvement that KU could try to re-create.
"I will say this: Iowa State had a bunch of seniors last year," Beaty began, referencing the 2017 Cyclones, who had nine seniors each on its offensive and defensive two-deep charts. "My hope is that we are very similar to that in terms of the way we look with returners and players that played a lot. My hope is we are able to capitalize on it like Iowa State was able to capitalize on it."
KU brings back such seniors as Joe Dineen, Daniel Wise, J.J. Holmes, Keith Loneker Jr., Tyrone Miller Jr. and Shakial Taylor on defense, as well as offensive seniors such as Steven Sims Jr., Peyton Bender, Jeremiah Booker, Ryan Schadler, Tyler Patrick and Kerr Johnson Jr.
"I know we've done the work," Beaty said. "Now it's up to us to put it on the field."