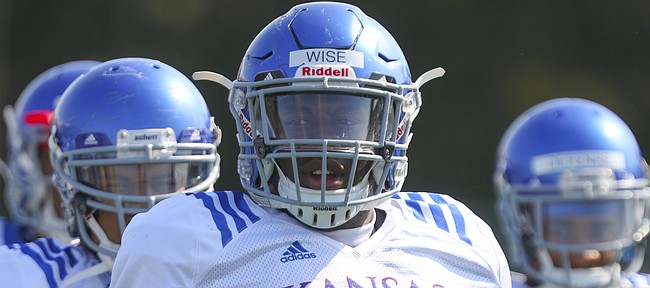 Most high-level student-athletes have enough going on as undergraduates that the hiring of an athletic director might not resonate until they interact with their head coach's boss face to face.
However, Kansas football senior Daniel Wise happened to know plenty about Jeff Long before KU chancellor Douglas Girod ever announced his hiring.
Wise's older brother, Deatrich Jr., played football at Arkansas while Long served as that athletic department's head honcho.
A defensive tackle for the Jayhawks, Wise remembers distinctly how his brother, now a defensive end in the NFL for New England, couldn't believe the news when he heard Arkansas fired Long this past November.
"When they let him go at Arkansas he was kind of upset about that," Daniel shared of Deatrich's reaction, "that he was losing someone that great and that impactful to a program."
The young Patriot and former Razorbacks standout became one of many to sing Long's praises on Twitter, after KU announced it signed the new A.D. to a five-year contract.
"KU athletes, fans and alumni, you have a great man here," Deatrich replied on July 5 in response to a Long tweet announcing his career move. "He's a super-cool, genuine guy. Will truly believe (in) and support the program and will do everything in his power to help KU athletes."
Deatrich even added an "the greatest A.D." hashtag for good measure.
"They love him," Daniel said of the consensus on Long from his brother and other former Arkansas athletes.
Daniel reached out to Deatrich to learn more about Long.
"He's a great guy. He's really motivational," the KU leader related of his brother's thoughts on Long. "He's really involved in everything, every sport. He tries to support, show his support, and that's great to have."
New A.D., new situation
Wise and other KU football veterans downplayed this past week Long's hiring affecting how they will play for fourth-year head coach David Beaty, amid public speculation that he is on the hot seat.
Still, redshirt senior Joe Dineen acknowledged players know when pressure exists. What's more, Dineen said it "always" does.
"The most important season is always the next one just because it's the next one. So, yeah, there's pressure," Dineen offered. "But I put pressure on myself and I know all these guys up here (Wise, Steven Sims Jr. and Khalil Herbert at Big 12 Football Media Days this past week) put just as much pressure on themselves as anyone does. We want to win for our fans and we want to win for Coach Beaty and we just want to win because that's what you're here to do in college football."
With the Sept. 1 opener against Nicholls State approaching, Dineen said the Jayhawks are prepared to embrace what lies ahead with excitement.
"It's a production business and we're all trying to produce," Dineen said. "But I think this year we're gonna surprise some people."
Beaty's 'vision'
Despite outside speculation regarding his job security and the Jayhawks' ongoing struggles since he took over the program (3-33 in three seasons), Beaty, per usual, maintained his upbeat style when it comes to trying to turn around the program.
KU's head coach described his "vision" entering Year 4 as unchanged.
"It's to build a championship program that stands the test of time. We believe that that is a direct byproduct of creating one good man at a time," Beaty said. "One good teammate, one good father, one good husband, one good productive member of society. The byproduct of that is going to be championships and longterm success. Our guys have put the work in, but they know that's the price of admission, and there are a lot of things that we feel like we have learned over the last few years that are going to give us an edge."