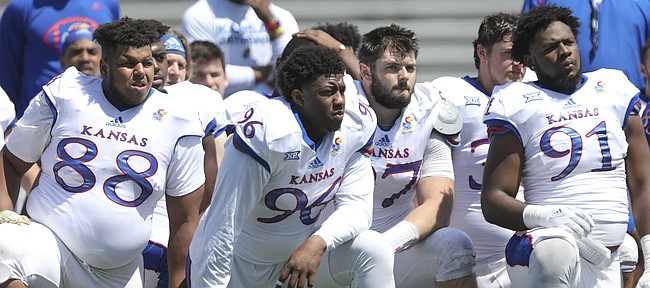 One of the freshest additions to the Kansas football program, offensive lineman Alex Fontana quickly impressed new teammates upon arriving in Lawrence earlier this summer.
According to those who train alongside the graduate transfer from the University of Houston, it's Fontana's maturity, both in his approach and physical development, that makes him stand out.
Listed on KU's roster at 6-foot-2, 300 pounds, Fontana crossed paths with one of the Jayhawks' largest and most talented players, redshirt senior defensive tackle Daniel Wise, on several occasions during the past several weeks.
Wise's first fully-padded practice against the veteran center and guard won't come until early August. Still, Wise already spotted key characteristics he thinks will make Fontana a crucial member of the offensive line.
"We worked out. We did like some walk-through stuff. He looks good. He looks like he's supposed to look," Wise said. "He looks like a next-level guy."
An injury sidelined Fontana for the entire 2017 season, his last with UH after transferring there from New Mexico Military Institute. As a junior in 2016, though, Fontana appeared in 11 games for the Cougars and started five.
In the spring, junior Andru Tovi appeared to be the likely starting center for Kansas after Mesa Ribordy retired due to his history of concussions. But now it's possible Fontana could end up winning the job and opening this fall atop the depth chart.
Identifying Fontana early on as someone strong enough and large enough to make an impact at the line of scrimmage encouraged Wise.
"And it's helpful for the confidence of the offensive line," Wise said of Fontana's addition. "It's another boost in confidence the offensive line needs, and for the team, as well, to have a guy like that who creates even more competition with guys like Tovi and whoever wants to play center."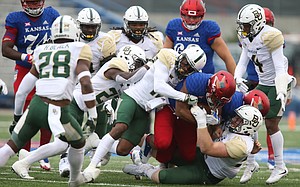 Witnessing Fontana's offseason methods this summer definitely had such an effect on KU junior running back Khalil Herbert.
"From what I've seen in the weight room he's a very strong guy. Comes to work every day with conditioning," Herbert added. "He's serious when he's on the field. Outside of the field he's a cool guy. But I'm excited to see what he can do."
Still, KU offensive linemen other than Fontana also led Herbert, whose effectiveness so often depends on the blockers in front of him, to think this year's O-line could outperform those of recent seasons.
"I'm very confident in the group we've got. We lift together, so I've got to see the work they do, the progress they've made," Herbert said. "I'm excited to see what they can do this year. We've got a lot of guys who can come in and help us out. If anybody gets tired, somebody else comes in, I know there won't be a drop-off."
Junior Hakeem Adeniji, sophomore Chris Hughes and junior Tovi are KU's returning starters up front from 2017. Other O-linemen who remain in the program after achieving letterman status a year ago are: sophomore Earl Bostick Jr., redshirt sophomore Malik Clark, junior Antione Frazier, senior Larry Hughes, junior Clyde McCauley III, junior Hunter Saulsbury and junior Beau Lawrence
During the spring, KU head coach David Beaty and new O-line coach A.J. Ricker spoke highly of redshirt freshman Joey Gilbertson.
Freshmen Jocobi Lott and Nick Williams were the top O-linemen in KU's 2018 recruiting class.
KU also added junior Kevin Feder as a transfer from Ohio State following the spring semester.