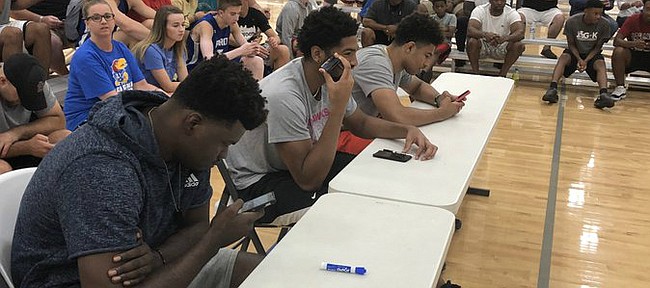 The Hardwood Classic AAU event out at Sports Pavilion Lawrence capped off its second day on Friday with a spirited dunk and 3-point contest that wowed the crowd and got the adrenaline flowing in all four corners of the massive gym.
The City Rocks program out of Albany, N.Y., brought home the hardware in both competitions, with sharp-shooter Joseph Girard III winning the 3-point contest for the second consecutive year and 6-foot-6 forward Andre Jackson winning the dunk contest, which was judged by current Kansas players Udoka Azubuike, Marcus Garrett, Dedric Lawson and Quentin Grimes. Former KU standout Devonte' Graham also was on hand for Friday night's fun.
Girard, a three-star shooting guard in the Class of 2019 is ranked No. 127 nationally by Rivals.com. He holds offers from Washington, Michigan, St. John's, BYU, Boston College and others.
Jackson, a four-star small forward in the Class of 2020 ranked No. 39 by Rivals, currently has offers from Syracuse, Umass, Iowa and George Washington.
Iowa coach Fran McCaffery was in the building on Friday to watch Jackson, highlighting a second straight day when some of the biggest coaches and programs in college basketball made Lawrence a priority, taking in a full day's worth of action at the Hardwood Classic to watch a handful of the top talents in the 2019 and 2020 classes.
McCaffery, Wichita State's Gregg Marshall, Arizona's Sean Miller and Oregon's Dana Altman were the marquee names at Sports Pavilion Lawrence, with assistants and staff members from other big time programs like Purdue, Syracuse, Wisconsin, Cincinnati, Northwestern, USC, Oklahoma and Missouri, among dozens more, also lining the baselines of the top courts to evaluate the young talent.
Two of the top players at this weekend's Hardwood Classic are MoKan Elite prospects Malik Hall, a 6-foot-8 small forward ranked No. 49 by Rivals.com in the Class of 2019, and N'faly Dante, a 6-foot-10, 225 beast of a center ranked by Rivals in the No. 6 spot in the Class of 2020.
The two Sunrise Christian Academy teammates helped lead MoKan to a 21-point route in their opening game at the Hardwood Classic and afterwards both caught up with Matt Scott about the tournament and the status of their recruitment.
"We're going to win everything," Dante told a group of reporters before adding that he was happy to be back in Lawrence. "We're not going to lose. I don't care how it happens, but we're going to win."
As for his thoughts about Kansas, Dante, who said he did not yet know when his recruitment would take a more serious turn, pointed to one key aspect of the KU program that had impressed him most.
"They're good," he said. "Everybody on their team plays hard so I like that."
Hall also had praise for Kansas basketball.

"Obviously they're a legendary school and their reputation precedes them, always working hard, always being top three in the country, top five in the country," he said. "I mean, it's an amazing school."
KU coaches on the road
While a bunch of coaches came from all over the country to check out the action in Lawrence the past couple of days, the Kansas coaching staff was spread out over the rest of the country tracking some of their top targets in the Class of 2019.
From Atlanta and Greensboro, N.C., to nearby Wichita, the KU staff was expected to check in on four-star forward Kai Jones, four-star point guard Tre Mann, five-star point guard Josiah James and five-star forwards Jeremiah Robinson-Earl and Matthew Hurt at the various AAU events in which they were participating.
The KU staff is expected back in Lawrence in time to check in with Dante and Hall at Sunday's action at the Hardwood Classic.