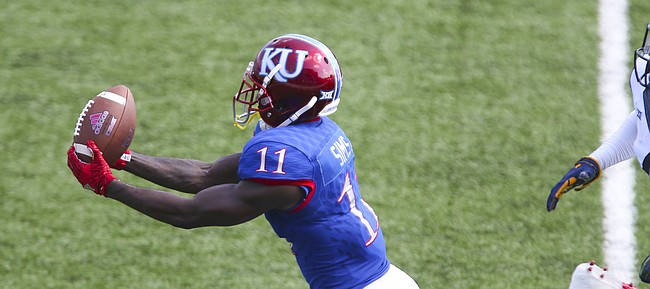 Anyone who follows the University of Kansas football program knows how impactful Steven Sims Jr. can be as a receiver.
Leading into his senior year with the Jayhawks, others are beginning to pay attention to Sims, too.
A 5-foot-10 wideout from Houston, Sims spent each of the previous two falls proving himself as the team's best passing target. As a result, Sims currently ranks fifth in program history with 2,049 receiving yards, third in career receptions (161) and tied for sixth all-time in touchdown catches (15).
Earlier this week, Sims joined head coach David Beaty and three other Jayhawks to represent the program at Big 12 Football Media Days, a new experience for the offense's senior star and one he described as very exciting.
After three years of being overlooked by some, Sims finally feels he is getting his chance to be a prominent face and voice of the often disregarded program.
"I take pride in it," Sims said of stepping into the forefront. "Us four guys (Joe Dineen, Daniel Wise and Khalil Herbert joined him in Frisco, Texas, for Monday's media rounds) had to put in a lot of work to get here, but we wouldn't be here without our teammates that we left back at Kansas. Those guys helped us in many ways. The quarterbacks, the O-line, without them, I wouldn't touch the ball. So I've got to be thankful for them."
Even within an often unfruitful offense that ranked ninth in the Big 12 in passing yards per game (226.4) in 2017, Sims finished with 59 receptions, 839 receiving yards and six TDs. He's confident those numbers will improve in his final college season.
Sims' potential can't be denied, and on Thursday, the Tallahassee Quarterback Club named the KU receiver to the Biletnikoff Award's Preseason Watch List. The Biletnikoff goes to the most outstanding pass-catcher in FBS.
Only six other Big 12 players made the watch list: West Virginia's Gary Jennings Jr. and David Sills V, Texas receiver Collin Johnson, Oklahoma's Marquise Brown and CeeDee Lamb, and Baylor's Denzel Mims.
When preseason camp begins the first week of August, Sims expects to embark on what he plans on making a successful final few months in a KU uniform.
He chronicled the team's strength and conditioning sessions and player-only practices of this summer to explain his hope.

"Just working. Just working. Nonstop work," Sims began. "Nonstop extra work. Nonstop work on the weekends. Getting everybody on the team up there for optional workouts led by the team leaders. It's amazing to see. And I'm excited to see what we do this fall."
From an individual standpoint, Sims will demand most of himself. And the fourth-year starter thinks his quickness and knowledge at the line of scrimmage should help him produce, even when opposing defenses lock in on him as KU's most experienced offensive weapon.
"Releases, those have to be my strong thing, because sizewise, I'm undersized or whatever — that really doesn't matter," Sims said. "But I have to use my quickness and my releases have to be on point for me to get open and get off against those bigger, longer defensive backs."
Sims ranked seventh in the Big 12 in receptions per game last season (4.9) and 10th in receiving yards per game (69.9).