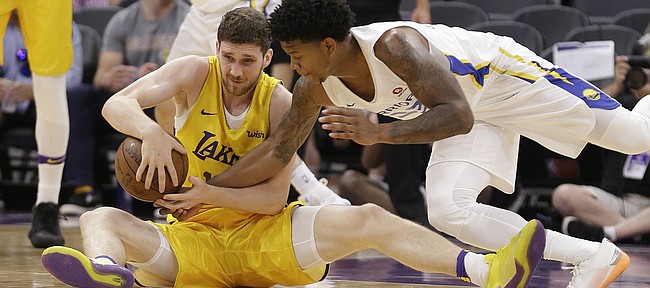 Former KU sharpshooter Svi Mykhailiuk gave Jayhawk fans plenty of reason to care about the NBA Summer League this year.
Mykhailiuk, a second-round pick in the 2018 NBA Draft, put together a clinic in the two-week event to help the Lakers reach the Summer League Championship. The Portland Trail Blazers ultimately upended the Lakers 91-73 in the title match.
It was the only loss for Los Angeles in seven contests during summer action in Las Vegas.
"It was a championship game," Mykhailiuk told reporters in Las Vegas following the loss. "Portland had a lot of vets, who had more experience than us. They played tougher than us today."
In the loss, Mykhailiuk scored 10 points on a 3-of-10 shooting from the field. But he was named to the All-Summer League second team for his performance over the seven-game stretch.
Mykhailiuk's best performance came in the semifinals, as he poured in 31 points on 12-of-20 shooting to help the Lakers claim an 112-109 victory over the Cavaliers in double overtime. Mykhailiuk hit six triples on 54.5 percent from long range.
"I'm just learning how to play an NBA-style game," Mykhailiuk said. "I'm learning the difference between college and NBA. Just meeting new coaches, meeting new teammates. Everything is new."
Mykhailiuk scored in double figures in all but one game this summer, averaging over 16 points per contest in his first pro action. Mykhailiuk started things off with a 17-point performance in his debut before notching 15 points against the Bulls in his second outing.
Following a nine-point performance against the Knicks, Mykhailiuk recorded 15 points on 5-of-7 shooting against the Clippers. In a convincing win over the Pistons, Mykhailiuk posted 19 points on 7-of-15 shooting before his explosion against Cleveland.
The Lakers won four of their first five outings by double digits.
"I'm going to get a little rest and then I'm going to get back to grind," Mykhailiuk said.
In addition, a number of other former Jayhawks were in action this summer.
Charlotte point guard Devonte' Graham, who was also drafted in the second round of this year's NBA Draft, had his summer cut short due to an injury. The team diagnosed Graham with a condylar lesion, and he will be out indefinitely.
Graham played in three summer exhibitions for the Hornets before hurting his knee. He averaged 10 points, 6.0 assists and 2.7 rebounds in 26.0 minutes per game. Graham shot 37 percent from the field, making 11 of 30 attempts.
Suns forward Josh Jackson, meanwhile, struggled in his second trip to the Summer League. Jackson averaged 24 minutes per game over three contests, scoring 10.3 points, 2.3 rebounds and 1.2 assists per game.
Jackson, the No. 4 overall pick in the 2017 NBA Draft, played in only three of Phoenix's five games due to a hand injury. According to Scott Bordow of The Arizona Republic, Jackson was sporting a brace on his wrist.
Former Kansas standout Perry Ellis also saw limited action for the Milwaukee Bucks this summer, averaging 3.3 points and 2.5 rebounds per game. Ellis will now play for Oliver Wurzburg, a professional basketball team based in Wurzburg, Germany, the team announced on its website on Wednesday.