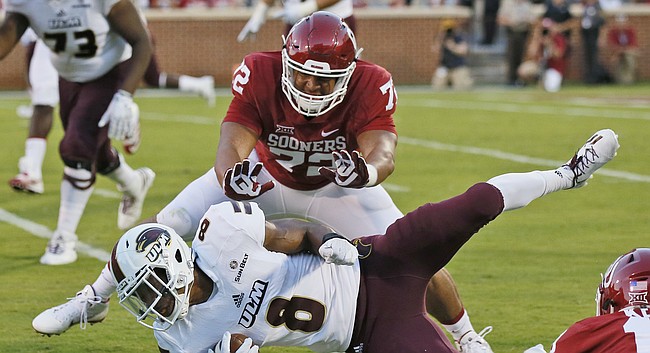 Frisco, Texas — In his 19 seasons as head football coach of Lawrence High, Dirk Wedd did not coach many players as talented as Oklahoma defensive end Amani Bledsoe.
Wedd and Bledsoe will be wishing a loss on each other Nov. 17 when Kansas travels to Norman to play the Sooners.
Wedd was hired as defensive analyst on head coach David Beaty's staff during the offseason.
"Definitely excited for coach Wedd, the opportunity he has with University of Kansas," said Bledsoe, recruited aggressively by Kansas. "I think he'll do great there. Love him. Coach Wedd's a great guy."
Wedd, according to Bledsoe, "was more of an offensive coach in high school, but he was still there to help out with the defense."
Multiple Journal-World requests to interview Wedd were fruitless, the most recent one with the following explanation from a media relations spokesperson: "Analysts don't do interviews."
Meanwhile, Bledsoe made it sound as if wearing a Sooners uniform has been every bit the honor he anticipated.
"It's definitely a humbling experience to be able to play for a big-time school like the University of Oklahoma, being able to understand my role here and help the younger guys out, my role on the defense, being able to carry myself in a different manner, carry myself like a veteran, like a lot of the older guys on the defensive front," Bledsoe said.
That role calls for him to get on younger players when they're not carrying out assignments.
"Of course," said Bledsoe, a 6-foot-4, 276-pound junior defensive end. "They're young. They're not mature in the manner that they will be in the future, so their focus isn't going to be there all the way, but they're learning. They're still understanding, but they'll get there in time."
He was in their cleats not long ago.
"A lot of the older guys like Charles Walker, Matt Dimon, Matt Romar and D.J. Ward helped me come along, helped me on the way, too," Bledsoe said.