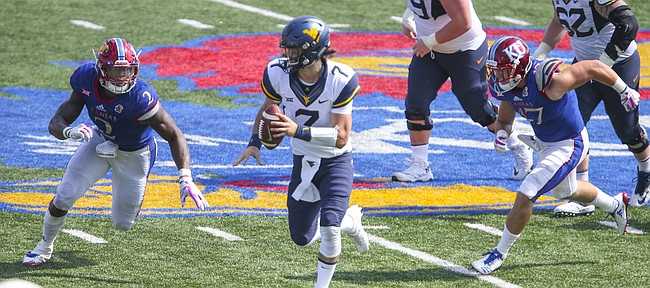 Nearly every summer, football conversation starts with the quarterback position.
The second day of Big 12 Media Days was no different, as all five coaches were asked about their respective signal callers. Baylor, Kansas State, Oklahoma State, Texas and West Virginia all fielded questions about their quarterbacks — among other topics — during a press conference in Frisco, Texas.
Here are some notable items from each team's availability.
Dana Holgorsen, West Virginia
The Mountaineers are one of the few teams in the conference that know for certain who their quarterback will be.
Senior quarterback Will Grier enters the season with plenty of buzz, as the conference pegged him as the preseason player of the year. West Virginia is also promoting Grier as a Heisman Trophy candidate after a stellar junior season. Last year, Grier threw for nearly 3,500 yards and 34 touchdowns.
"I would never approve a campaign unless I felt like a player could handle it," Holgorsen said. "That's my job as far as managing players, and Will is a very older, mature coach's kid. He's ready for this, he's prepared himself his whole life for us. I got no worries about him not understanding expectations and how to deal with expectations."
As a team, West Virginia will have to learn how to handle expectations. The Mountaineers received two first-place votes and were picked second in the Big 12 preseason poll.
"We welcome expectations," Holgorsen said. "I think we got a good group coming back. Had a decent year last year, did some good things offensively. But there are a whole lot of things that I feel like we can do better and our guys think they can do better."
Tom Herman, Texas
After starting six games last fall, sophomore Sam Ehlinger projects to be the favorite to take the first snap in 2018. Still, Herman is more optimistic about this year's quarterback room due to the quality depth at the position.
Junior Shane Buechele could give Ehlinger a run for his money in fall camp before the season opener. Herman said that newcomers Cameron Rising and Casey Thompson have also shown flashes of potential.
"I tell you what, it beats having a quarterback room with two scholarship players going through the entire season," Herman said. "To have that depth in that room and the depth be as young as it is, just really excited about where that room is headed."
Matt Rhule, Baylor
If the season started today, Rhule believes that sophomore Charlie Brewer would lead the offense.
Brewer was thrust into action as a true freshman due to injuries, playing in eight games (four starts) and throwing for 1,500 yards. Brewer completed 68.1 percent of his passes, notching 11 passing touchdowns.
But freshman Gerry Bohanon, a four-star quarterback, could challenge Brewer this fall. Senior Jalan McClendon also transferred in after having some solid performances at North Carolina State.
"(Brewer) needs to grow as a passer, while at the same time keeping his energy," Rhule said. "And he has some threats behind him. There are guys in that room that will keep Charlie sharp and I look forward to the competition. As you know, I believe in competition every day. So it's his job, if we played today. We will see what happens come September 2."
Bill Snyder, Kansas State
Snyder, meanwhile, brought two quarterbacks to represent Kansas State in order to not tip his hand at who the starter will be this year.
Junior Alex Delton and sophomore Skylar Thompson were both available to talk to reporters after both saw action during stretches in 2017. Delton ran for 500 yards and threw for 498 last season, while Thompson finished with 689 passing yards.
Snyder's decision to bring both players to Media Day was to encourage further competition this fall.
"I thought this was a great opportunity to imply some preseason pressure," Snyder said. "Secondly, they deserve to be here. They're both very competitive young guys who are competing, one is a captain, one is a co-captain. They have both stepped up and provided excellent leadership during the course of the summer workout programs, which is extremely important."
Mike Gundy, Oklahoma State
Following the graduation of Mason Rudolph, the Cowboys are looking for a quarterback for the first time since 2014.
Fifth-year senior Taylor Cornelius appears to have the lead on the job after serving as Rudolph's backup the last two years. Hawaii graduate transfer Dru Brown and freshman Spencer Sanders should also be in the mix when fall practice starts up.
"When we came out of spring, we felt very comfortable with Taylor, so certainly going into August, he's our guy," Gundy said. "He's been with us a number of years. He understands our offense. We're confident in his abilities."