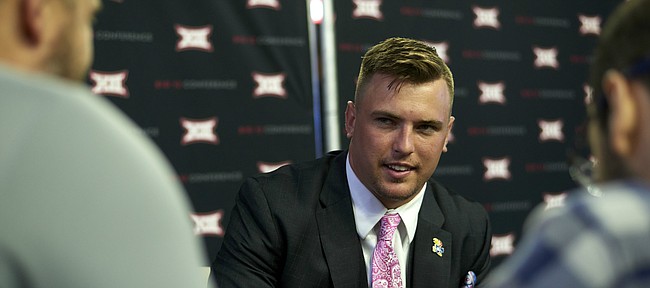 FRISCO, TEXAS — It only took a nondescript question for Joe Dineen to understand the task awaiting him.
"Do you have your suit?"
Mid-July trips to Texas for Big 12 Football Media Days are simply a part of Dineen's routine by now, as he heads into his redshirt senior season with the Kansas football program.
"Yeah, I'll be ready to go," Dineen replied, confirming his third consecutive summer journey south, to represent his hometown college football program.
The conference's leader in total tackles (137), tackles for loss (25.0) and solo tackles (93) in 2017, Dineen is as comfortable in a sharp ensemble as he is playing linebacker. He knew what to expect from reporters and TV and radio crews on Monday at Ford Center at The Star, KU's day at the annual event.
Dineen has gone through it all enough that he even coached up teammates Steven Sims Jr. and Khalil Herbert, both of whom were first-time attendees.
"I am old, man," the 22-year-old Free State High graduate said, grinning. "I've been here three years. This is always a great time. They treat us really well. It's really fun."
The locker room leader headed to his last go-round at the preseason shindig with an easygoing approach to the lights, microphones, cameras and stages, despite knowing questions about KU's ongoing struggles and the job security of fourth-year head coach David Beaty awaited him and his teammates.
He made sure, too, that fellow Jayhawks Daniel Wise, Sims and Herbert entered the trip with similar methods.
"We'll do our media training and stuff like that," Dineen said of the players' preparation for a day's worth of questions, "and they'll ask us some hard, hard questions. And I'll be like, 'Relax, it's not all going to be that bad.'"
Even for the upbeat Dineen, though, the harshness of enduring so many on-the-field defeats put him in a place mentally this past winter where he considered leaving KU behind.
While his defensive teammates Wise and Dorance Armstrong Jr. examined the possibilities of declaring for the NFL Draft, Dineen did the same.
"I definitely looked at it. I think, more than anything, it was just a little bit of frustration after the type of season that we had last year," he said in reference to KU ending 2017 with 11 consecutive defeats. "I just wanted to see. But coming back has been the best decision I think I could've made for my future playing football and just to help this team. I'm really excited to get things going in the fall."
Dineen worked through his exasperation by speaking with coaches and teammates, including Beaty, Wise, Sims Jr. and even Armstrong, who ultimately entered the draft and was selected in the fourth round by Dallas.
"Just knowing that other guys are going to be there and other guys are going to come back and we're going to have a guy at the helm like Coach Beaty back," Dineen said of what gave him some assurance. "Just a combination of all that stuff really just made my decision easy."
With his fourth spring football behind him and his final fall as a KU football player ahead, Dineen feels much more optimistic now than he did in the wake of the 2017 season.
Asked to outline his expectations for KU's defense and the 2018 campaign in general, Dineen stated lofty objectives.
"We want to go in and be the best defense in the Big 12. That's our goal. We think, with the guys we have returning, that's a real possibility," said the veteran linebacker, one of nine defensive players who have starting experience.
"And just for our team, we want to win," Dineen said. "We came here to win bowl games. I'm a fifth-year senior and I haven't been to a bowl game yet. I'm not trying to go out like that. So I'm going to do everything I can to help my team win and we're going to try to get to a bowl game and win a bowl game."
Dineen up for Good Works Team
On Tuesday, after he returned to Lawrence, the American Football Coaches Association named Dineen one of 169 nominees for the 2018 Allstate AFCA Good Works Team.
Dineen is in contention for the honor because of his efforts in the community. He has worked to raise awareness for childhood cancer and volunteered with organizations such as Just Food, Salvation Army and the Special Olympics, among others.