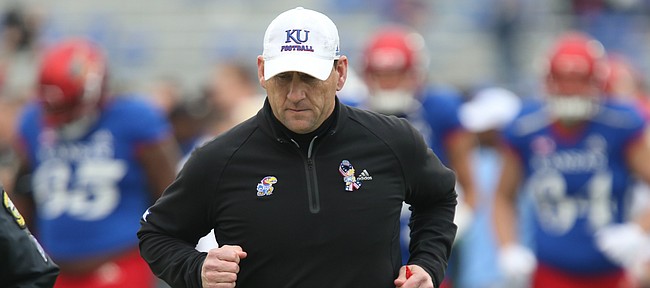 It's time to shelve all other building projects to put all efforts on an expansion that won't take long and just might supply the motivation fuel the Kansas football team will need to overachieve in 2018.
The program is badly in need of an expanded bulletin board because the hits are coming fast and furious.
Picked for last in the Big 12 by every media outlet that covers college football comes as no surprise, given that the school has won just one conference game in the past three seasons combined. Never mind that KU returns as many starters as any team in the conference. Just about nobody outside the swanky Kansas locker room believes in this football team anymore.
The Jayhawks went winless in the Big 12 by an average margin of 32 points in 2017, and no easy tangible path is visible for improving enough from that deep a hole to justify picking them for anything but another 10th-place finish.
The new, expanded bulletin board will need room for more than just the annual last-place picks. Those alone are not enough to move the emotional needle, but something else has the potential to drive this team to compete with the sort of passion it hasn't shown in a long time.
David Beaty is coaching to save his job, and only a group of experienced players competing out of their minds to win one for their coach will enable him to earn a fifth season at the helm of a program that hasn't won as many as four games in a season since 2009.
If trying to save their coach's job ranks high among the players' motivational factors, they have no shortage of material to pin to the bulletin board.
For example, collegefootballnews.com recently ranked the 130 FBS coaches from 1 through 130. No need to put the entire list on the board, just No. 130. That's right, Beaty finished behind all other 129 football coaches. If that doesn't fire up a team that believes in its coach, nothing will.
Pointing out that Liberty is not a "full-fledged FBS member until 2019," Dennis Dodd, of CBSsports.com, gave all 129 coaches a hot-seat ranking. Six coaches earned a "5" rating, which is defined as "Win or be fired." Beaty is one of them.
If Beaty's fourth team uses his shaky job status as motivational fuel, it will be easy to spot right off the bat in the season opener on Sept. 1 at David Booth Kansas Memorial Stadium. If the team doesn't play with fire from the opening kickoff through the final gun in that game, it never will.