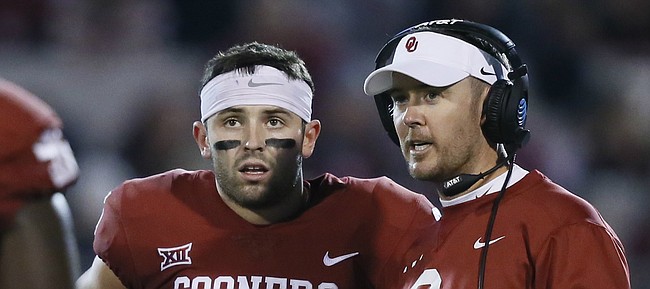 The coaches of some of Kansas football's Big 12 competitors had a lot to say Monday about their own respective programs during the first day of the NCAA's College Football Big 12 Media Days event.
Here are some noteworthy items discussed by coaches at Oklahoma, TCU, Texas Tech and Iowa State, beginning with the question that might be on many a college football fan's mind these days: Who will replace Heisman winner and No. 1 NFL draft pick Baker Mayfield as OU's starting quarterback?
Lincoln Riley, Oklahoma
Replacing Mayfield will be a tall task for Riley, who told reporters Monday that competing to fill the Cleveland Browns draft pick's shoes as starting QB will be redshirt sophomore Austin Kendall and redshirt junior Kyler Murray.
Murray, who played in seven games last season for the Sooners, was picked by the Oakland Athletics with the No. 9 selection in the 2018 MLB draft, though he will continue with Oklahoma in the fall. Kendall redshirted last season, but appeared in two games as a backup during his freshman year in 2016.
Regardless of who starts under center, Riley expects to have another talented team that has lofty postseason aspirations after falling to Georgia in double overtime during the Rose Bowl last season.
"This is going to be an interesting team, no question," Riley said. "I think it's got a chance to be maybe the most talented team that we've had in the now four years that we will have been at OU, but also probably our most inexperienced team, as well. So I think our leadership is going to be a very, very key part of how this team progresses."
Gary Patterson, TCU
The reigning Big 12 champions are not the only team in the conference that will have a new signal caller this fall. Like Oklahoma, TCU will be tasked with contending for a league crown behind a new starting quarterback.
Patterson, who was the first coach to speak to reporters, all but named his new starting quarterback. Sophomore Shawn Robinson appears to be the favorite to replace Kenny Hill, who threw for over 6,300 yards and 40 touchdowns in two seasons with the Horned Frogs.
In fact, Robinson was one of the players chosen to represent TCU at Big 12 Media Days. To start his press conference, Patterson joked that he brought Robinson along purely for superstitious reasons.
"Usually, I don't bring a young player with me," Patterson said. "I joked the other day with somebody, two years ago, I didn't bring Kenny Hill, and we went 6-6. And last year, I brought him, and we went 11-3. We didn't need to wait another two years to win enough ball games."
Still, it appears that Robinson has the advantage for the starting nod over sophomore Michael Collins, who transferred from Penn. Robinson played in six games during his freshman campaign, including one start in a win over Texas Tech.
Kliff Kingsbury, Texas Tech
Historically, the Red Raiders have been known for their offensive firepower under Kingsbury. However, this year's squad may be a bit different than his previous teams.
Texas Tech returns 10 starters on the defensive end and will have quality depth, as well. The unit has made strides recently under the direction of defensive coordinator David Gibbs. In addition, three Texas Tech defensive players were named to the All-Big 12 defensive team, which was the most of any team.
"Obviously, it's preseason, so you take everything with a grain of salt," Kingsbury said. "When Coach Gibbs took the job four years ago, he kind of had to redo it all. He had a vision, knew what he wanted to do but had to go through two tough years. To his credit, he stuck to his guns, with his philosophy and his recruiting, and now we're making strides on that side of the football."
Matt Campbell, Iowa State
The Cyclones took the league by surprise in 2017, winning eight games last fall and posting a winning record in conference play. Iowa State also knocked off two top-five opponents last season, defeating No. 3 Oklahoma and No. 4 TCU.
Iowa State, which was picked to finish seventh in this year's preseason poll, may still have plenty of impact on the conference race in 2018. The team returns sixth-year quarterback Kyle Kempt, who completed 66.3 percent of his passes last year. Running back David Montgomery is also back after averaging 88.2 rushing yards per game, which was the third-best clip in the league.
But Campbell is especially excited about his offensive line, in which the team returns four starters from last season.
"For the last two years, we've had to really rebuild it from the ground up, and that's not a quick fix," Campbell said. "There are guys who have actually played for us, which is really big. It's the first time since I've been here that we've got this many guys that have experience and played, and I do think you've got to play and get that experience and have some of those failures and successes so you can grow."
More like this story on KUsports.com