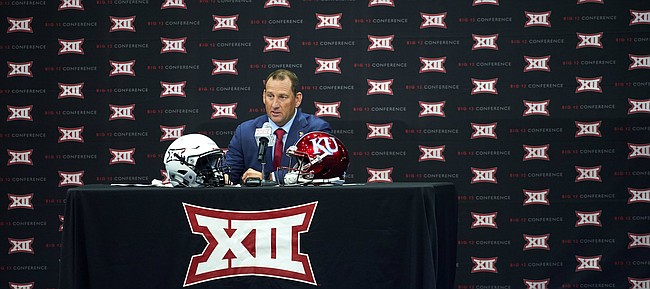 FRISCO, TEXAS — The man who hired David Beaty and placed him in charge of revitalizing a barren football program no longer works at the University of Kansas.
Still, Beaty insisted Monday at Big 12 Football Media Days the presence of a new boss, athletic director Jeff Long, hasn't made the Jayhawks' fourth-year coach less comfortable about his standing.
Speaking with reporters for the first time since Long was introduced as Sheahon Zenger's replacement, Beaty, who has only conversed with the new AD over the phone to this point, described Long as "easy to talk to."
What's more, according to Beaty, who enters the upcoming season with a 3-33 record as KU's head coach, Long's hiring doesn't mean more pressure for him.
"I deal in reality. I'm not going to sugarcoat anything," Beaty told a small group of reporters inside Ford Center at The Star, during an afternoon breakout session. "There is pressure in intercollegiate athletics. That's actually the crazy chip that most of us coaches possess that drives us. In a way, pressure is something that we find fun in a weird, wild, crazy way. We enjoy it. It's competition."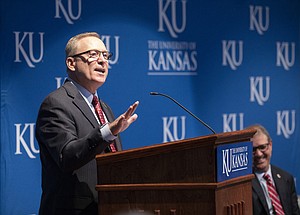 Long officially begins at KU on Aug. 1. Beaty said, when that day comes, he looks forward to inviting the incoming AD to closely examine the football program.
"Having a new boss is only scary to people when they don't have a plan and they're not prepared," Beaty said. "I am fully confident in our plan, and I can't wait to give him an inside look and he gets to spend time with us day to day inside our program with our players to feel the culture that we have, see the work that we've done, how we got here and dig in deeper and get to give him a look for himself."
Kansas' coach anticipates Long demanding much more out of him than merely showing up and staying the course. And Beaty declared he welcomed what lies ahead.
"Is there pressure? Listen, anybody who tells you they don't have pressure in this job is lying. There is pressure. But that is what makes it so fun," Beaty said. "I love that. I love the fact that I'm at a place that it matters. It would not be any fun to be at a place where it didn't matter."
As the Jayhawks prepare for the upcoming fall campaign, Beaty doesn't foresee players suffering any distractions from outside noise regarding his job performance, either.
A redshirt senior linebacker, Joe Dineen acknowledged that KU's situation — with a new athletic director coming in and the football program struggling — may lead some to think Beaty's time at Kansas could be close to an end if the Jayhawks continue their losing ways of years past.
Dineen said that's the reality of college football, "a production business," and explained how he figures KU's players will navigate this situation.
"It definitely fuels us. But (Beaty) preaches, 'Take it one game at a time.' And that's what we're going to do. He's our head coach and as far as I'm concerned, he's going to stay our head coach," Dineen said. "He's the right man for the job. The record doesn't portray how much he has helped me as a football player and how much he has helped this team."
Another redshirt senior and team leader, defensive tackle Daniel Wise, viewed Long's introductory press conference this past week as a show of support for the football program in general, as well as Beaty and his staff.
"He's there for us and he's there with us," Wise said of Long. "He wants the best for us. As far as pressure, that's part of the game. Week in and week out in college football, that's what we thrive for, that's what we live for. That pressure of being better than we was last week."
Senior receiver Steven Sims Jr. agreed, downplaying the idea that players will feel increased stress to finally produce more victories in Beaty's fourth season because of the leadership change in the athletic director's office.
"Not at all. We put the most pressure on ourselves," Sims said. "I know Coach Beaty puts pressure on himself every week just to be the best that he can be for us. So we're going to put pressure on ourselves to be the best for him and produce for him. All that other stuff won't even matter."
When Long delivered his opening comments at KU, his focus on the football program included the declaration, "It's time to break the cycle."
Beaty, who didn't attend Long's press conference because he was vacationing with his family in Florida, said he watched the event from afar and "loved" the new AD's stance.
In the coach's mind, there is even more to Long's "break the cycle" words than the obvious.
"The easy thing to go to is, we need to break the cycle in football and start winning. I think that he understands in my talks with him that this is a group thing," Beaty related. "It's a group project. It's not just what people think it is on the surface. Breaking the cycle means finding a way to create the support that our team needs that can help them get better and help them get better faster."
Living up to those goals within the public eye naturally comes with pressure, Beaty and his players maintained.
The head coach even postured several steps further, describing himself as someone who appreciates working through stressful events.
"No, this is a storied program that deserves to be among the best. And we are striving to get that done. We're in the middle of that process right now. Listen, I'm just an honest guy. It comes with pressure, but that pressure is something that we enjoy," Beaty said. "And I assure you, it doesn't come with any more pressure than I place on myself every single day. I mean, I've got to choke myself to sleep at night. I already live that. I welcome it. I think that's what brings out the best in all of us and helps us to achieve. When I've been comfortable in my life, I haven't really been as good as I possibly can be. So I've learned to get uncomfortable. And not that this is uncomfortable. It's that this challenge at times is what people conceive as uncomfortable. I think it's growth. That's what I'm excited about. Every new beginning gives you a chance at growth."