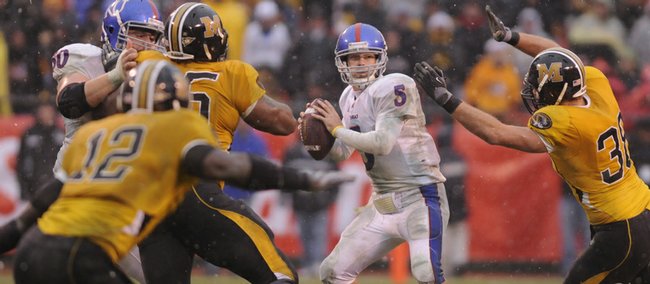 He doesn't officially start his job as 11th athletic director in University of Kansas history until Aug. 1, so it's no surprise that Jeff Long isn't ready to state a definitive position on the dormant rivalry with Missouri.
He doesn't yet know the sentiments of Kansas alumni on the topic, and he doesn't know who KU's football coach will be at the next available opening in the two schools' schedules.
A check of both schools' tentative schedules into the next decade shows that 2026 is the first possible year for a resumption of the football series.
So when Long says he has more urgent issues on his plate, believe him.
Long need not take KU coach Bill Self's temperature on the topic because his views are well known. Any resumption of the rivalry won't include men's basketball.
Self, of course, has been steadfastly against playing Missouri since the school put in motion its exit from the Big 12.
Naturally, every Missouri basketball coach has wanted to resume the series. After all, upsetting Kansas would score the Mizzou coach huge points with the fan base, and losing to the Jayhawks likely would improve the Tigers' RPI and wouldn't do the coach any public-relations harm because nobody expects the underdog to win anyway.
Similarly, playing Missouri in football is a no-lose proposition for Kansas. Losing is the expected outcome, unless KU has closed ground on Missouri by the time a game can be scheduled. Defeating Missouri would do more for a Kansas coach's popularity than slaying any other opponent.
A counter-punching Self had fun last summer at the expense of former Missouri chancellor R. Bowen Loftin, who blamed Self for killing the rivalry and said that the basketball coach's "huge ego" was standing in the way of the rivalry's resumption.
Self's memorable response: "Tell the ex-Missouri chancellor that I coach basketball, not football. That we would never play a game in Arrowhead or even discuss it. It's too cold. We play our games indoors. But I look forward to meeting him someday if he's ever in Lawrence."
There you have it. Self isn't standing in the way of the football rivalry coming back to life. He doesn't need a say in that. Kansas football could use the spice the rivalry brings; the sooner, the better.
Opponents already on KU's schedule from 2019 through 2028 include Coastal Carolina (three times), Boston College (twice), Houston (twice), Illinois (twice) and Washington State (twice).
None of those are nearly as compelling as a rivalry resumption with Missouri.