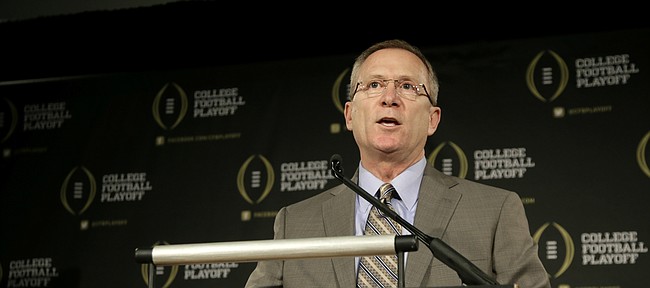 The news had been out only a couple of hours when the first text messages began flooding his phone.
Late Thursday afternoon, Oklahoma athletic director Joe Castiglione, who once hired newly named Kansas AD Jeff Long for a senior associate role at OU in 2001, had started to hear from his friends in Kansas.
What can you tell me about the new guy, they asked? Is this a good hire for KU, others wondered? Do you think this Long guy can fix our football program?
All of those questions, and others like them, made their way to Castiglione's iPhone on Thursday. And why not? While Long has worked with dozens of other big time players in college athletics during the past couple of decades, it was Castiglione who saw enough in Long to hire the rising administrator for his first big time role at the Power 5 level. In two years with Long as a senior associate AD at OU, Castiglione watched with equal parts pride and appreciation as Long's personal and professional growth flourished.
Truth be told, Castiglione actually saw many of Long's most impressive qualities long before he offered him a job.
"He was already an AD (at Eastern Kentucky) when I hired him," Castiglione told the Journal-World on Thursday during a phone interview about KU's newest leader. "That probably is the biggest example of him being intentional about his own career journey, the fact that he chose to step away from an AD role that he had already obtained to go to a senior associate role, thinking of what that would do for his career track.
"Not many people would do that. And obviously it turned out to be a good move for him."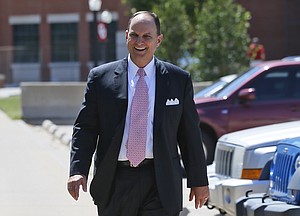 After starting his administrative career in 1988 as an assistant AD at Rice, future stops at Michigan and Virginia Tech led Long to the AD chair at Eastern Kentucky, where he led Colonel athletics from 1998 to 2001. It's been nothing but big time programs and jobs for Long since then, and Castiglione believes Long is poised to add Kansas to that list while elevating the KU athletic department in the process.
"The University of Kansas has hired a proven, experienced leader and that says a lot," Castiglione said. "Jeff is very well liked and very well respected. Those relationships will serve him and the University of Kansas very well."
The way Castiglione sees it, the benefits for Kansas figure to come sooner rather than later.
Although Long, 58, will not officially begin at KU until Aug. 1, Castiglione said it's not in his personality to spend the 24 days between now and then working on his tan and enjoying what's left of summer vacation.
In fact, some close to the KU athletic department have said Long may already have started in an unofficial capacity.
"Outside of the normal transition period that comes with getting to know new people and them people getting to know him, he'll make the transition as smooth as it possibly can be," Castiglione said. "He has a great deal of experience and has made transitions before. So when he gets there, he will be able to fully focus on the important matters at hand."
According to Castiglione, who is firmly in place as one of the country's most respected veteran ADs, Long's familiarity with several people and many aspects of the Big 12 Conference will aid that transition. But he pointed to Long's make-up and philosophical approach as the biggest reasons why he thought Long would be a good fit for KU and the conference.
Before sending a message of congratulations to Long on Thursday — "Just briefly," Castiglione said. "I can understand what that day is like for him." — the two last connected at a convention last week, before Long's hiring was official. Castiglione said their conversations then were of the 'What if' variety.
"He asked my perspective of, 'Well, if it ever did happen, what do you think,'" Castiglione recalled.

Castiglione did not share exactly what he told Long during that encounter, but it's clear that he encouraged Long to pursue the opportunity, both because he believed the KU job was a good one and because he knew Long was ready for the huge undertaking.
Chief among the many challenges facing the KU AD in 2018 is the university's football issue. The Jayhawks have a record of just 15-81 in the eight seasons since Mark Mangino left town following the 2009 season and the past three hires — two made by recently fired AD Sheahon Zenger and another by former KU AD Lew Perkins — have delivered more headaches and problems than solutions.
And while Castiglione stopped short of calling Long "a football guy," he did allude to Long's deep connection to the sport.
"Played it, coached it, had a role with the College Football Playoff committee, which he chaired, has hired coaches," Castiglione began. "Really, does it do us any good to talk about it? I mean, just look at his pedigree. Look at his history. It's pretty strong."
Having said that, Castiglione made sure to point out that the Long he knew at OU and the Long KU hired this week is the total package.
"He's an athletics director. That means all sports," Castiglione said. "And he's one that will advocate for the success of everyone. That's been another hallmark of his leadership."
Described by Castiglione as "well read," the OU AD who considers Long a friend as much as a colleague never ran out of flattering things to say about Long during Thursday's 30-minute interview with the Journal-World.
"He has great knowledge, great perspective and exceptional character and integrity to go with it," said Castiglione, now in his 20th year at Oklahoma after spending six years as the AD at Missouri. "He was great among our donors when he was here at Oklahoma because he gets to know people well and he has a really good personality. He loves to keep the energy high and for people to have fun at the same they're working very hard to be successful.
"He really understands the role of the leader."
With that, Castiglione paused, reflecting back for a minute on his roots and his personal life to pull back the reins on his praise for Long.
"For a guy that spent 17 years working for Mizzou and who's married to a Missouri graduate, it's a little difficult for me to publicly say so many complimentary things about the University of Kansas," Castiglione joked. "But this is one of the rare exceptions where it's all right because I think very highly of Jeff and I think Jayhawk fans are really going to enjoy getting to know Jeff and Fanny Long."