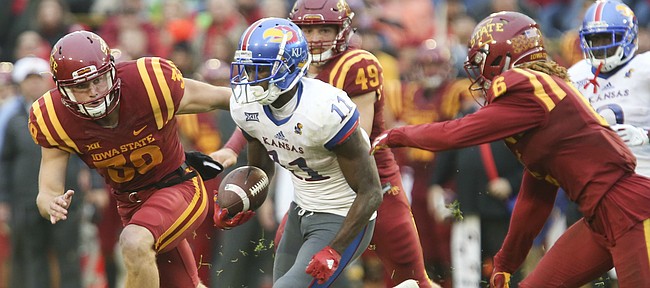 During his second consecutive year as the Kansas football team's leading pass-catcher, Steven Sims Jr. absorbed no lack of lessons to carry with him into off-season preparations for his upcoming senior year.
When the 5-foot-10 receiver from Houston chews over the meatiest matters on his agenda, though, Sims' mind turns to one area that felt more like a deficiency to him than a strength.
Although he finished sixth among all Big 12 players in all-purpose yardage in 2017, with 106.3 yards a game, only 6.4 of those came from his efforts as a punt returner.
"I want to do way better at punt returns than I did last year," Sims said of his focus toward improving his special teams contributions. "Last year was my first time really being a punt returner. In high school I didn't do it much."
Prior to his junior season, Sims' repetitions on that unit were limited and came primarily during practices, while he backed up former teammate LaQuvionte Gonzalez.
Once Sims took over those duties this past season, it wasn't difficult for him to surpass his predecessor, but the results were moderate at best. Sims returned 12 punts on the season for 77 yards.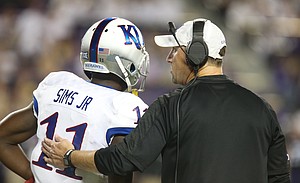 The Jayhawks finished 84th among FBS teams in punt-return yards (6.2 per game) — far better than their dead-last showing in 2016 (-1.4), a result of Gonzalez's various bungles.
In 2017, Sims muffed two returns — one at Iowa State and another at Texas. He expects far better results during his final college season.
"Last year was my first year doing it, so I got rid of the little butterflies, things like that," Sims said. "So this year I've got to attack it head on."
The preliminary stages of that strategy flourished this past spring, as Sims plugged away, fielding punts on top of punts.
"I feel like I'm getting better every day with that. It's just reps. That's all it is," Sims said. "You've got to keep catching them."
His personal summer to-do list, Sims shared, also includes plans to add a little extra weight — maybe 5 to 10 pounds — in order to help him better absorb hits. Along with all of his typical lifting and training, he'll continue to address his route-running and footwork, too.
Same as KU's other prominent veterans, Sims' efforts often are fueled by memories of how poorly the previous season turned out, with 11 consecutive losses.
"We all took it as another learning experience. We're tired of losing," Sims said. "So everybody's coming to work competitive, like we've got to turn it this year. This has to be the season."
As much as the fourth-year starter believes in that message, Sims said it isn't in his nature to get up in front of the locker room and deliver that type of speech.
"That's not me. But I just have to tell them we have to continue to focus and lock in on the small details. Like the little things that we don't think matter, I think that's the difference," Sims said. "That's the details that are gonna change everything for us. We've gotta fix those. We've gotta pay attention to the small details and that's gonna get us over the hump."
Headed toward his final months at KU, Sims would enjoy few things as much as playing a prominent role in a season that features progress for the program.
Whether the indicators he has observed since the end of last season prove relevant remains to be seen, but Sims detailed occurrences he viewed as favorable signs, from this past spring in particular.
"I feel like there's more competition at every position and it's more competitive in practice," Sims began. "Offense versus defense wise, there's more talking. That's not always good, but I feel like that's a start. We compete. We force each other to go harder. Wide receivers and DB's are constantly talking back and forth. I just feel like that brings your best game out. I feel like that's what we've got to have to win."