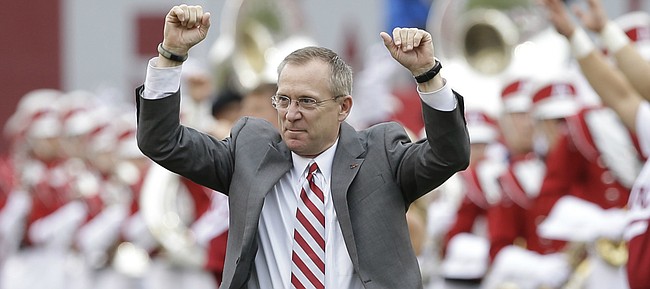 The punchy, popular and somewhat impatient question floating around following Thursday's announcement of the hiring of Jeff Long as the new athletic director at the University of Kansas was short and sweet.
Was this a good hire?
People from all walks of life will, and certainly already do, have their opinions on that. But none of them can be right, or wrong, until Long gets time to prove it.
Only then will we know whether KU chancellor Doug Girod, search committee leader Drue Jennings and Korn Ferry search consultant Jed Hughes delivered the right guy to address KU's Superdome-sized football problem and lead Kansas into what can only be described as a potentially exciting, but also uncertain, future in college athletics.
Within minutes of KU announcing Long as the 11th AD in school history, dozens of glowing reviews about Long the administrator, Long the leader and Long the man made their way around the internet.
It's worth remembering, however, that whenever these sorts of hires are announced, the people in charge of putting out the information are tasked with collecting the most favorable and glowing comments in an attempt to create a shiny first impression for the people digesting the news.
That's why the powers that be at KU chose to include quotes from two of the Big 12's most popular athletic directors, two conference commissioners and, of all people, Condoleezza Rice, who currently chairs the Commission on College Basketball, once was a member of the College Football Playoff selection committee and is a former U.S. Secretary of State.
Hearing positive comments from people of that stature makes quite an impression. But what about the people who weren't included in the news release? What about those who once worked with or know of Long and have their own opinions about the type of athletic director KU just hired?
They seem to be impressed, too.
A handful of calls to people throughout college athletics in the hour after KU announced Long painted a picture of KU doing about as well as could be expected in hiring Long.
Instead of hiring from the mid-major level of college athletics and hoping to catch the next big thing on a list of up-and-coming athletic directors, Girod and company hired a man who has been there and done that.
Instead of reaching for the big boys only to get turned down by a powerhouse AD at a big-time university, the Jayhawks zeroed in on a man they knew was available and whose resume stacked up favorably.
Instead of putting the future of KU's football program in the hands of someone he hoped could find his footing in time to lead Kansas out of the dumps and back to respectability, Girod hired a man who not only went to battle in the football-rich, cutthroat Southeastern Conference on a regular basis, but also a man whose experience as the first-ever chairman of the College Football Playoff selection committee put him at the type of table at which most at Kansas have only dreamed of sitting.
So right now, it's as much the way Kansas went about finding Long as it is Long's accomplishments that have many believing this was a good move by KU.
One Pac-12 administrator I talked to called it as good of a hire as KU could have hoped to make. Another source outside of the direct line of college athletics who worked with Long on facilities renovations at Arkansas said, "KU nailed that hire."
The list went on and on, with half a dozen people without any stake in the matter saying they were impressed by KU's latest move.
None of this means that Long is a home run hire. Only time will tell if that's the case. And there's not a ringing endorsement or a first impression out there that can change that. The man has plenty of work to do. And how well he does it will determine just how good the hire was.
But with that being true in all hires, those who are looking to judge KU solely on its ability to land a quality candidate to take on the challenge can only deem Thursday's news as a good first step.
In naming Long the leader of its athletic department for the next five years, Kansas appears to have maximized its reach and plucked Long from the ceiling in the room it occupies.
Now it's up to Long to help the Jayhawks bust through it.