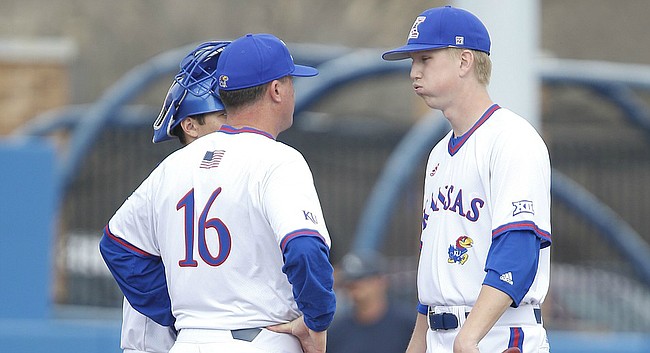 Never let it be said that right-hander Ryan Zeferjahn isn't willing to go the extra 10,000 miles to advance his baseball education.
A Topeka native who earned second-team All-Big 12 honors for the University of Kansas this past spring, Zeferjahn had been in North Carolina last week, pitching for the USA Baseball Collegiate National Team in games that amounted to tryouts for the final 24-man roster.
Zeferjahn didn't make the final cut, a disappointment for everyone in the Kansas baseball program, but one with a sunny side to it.
The news meant that Zeferjahn would be able to join his teammates for the Jayhawks' trip to Taiwan to compete in the World University Baseball Championship.
In order to make the trip, Zeferjahn's schedule called for him to fly on Monday from North Carolina to Kansas City, then to join the team for its 6 a.m. flight from Kansas City to Denver to connect to an 8:45 a.m. (Central Time) flight to San Francisco. After 13 1/2 hours in the air, the flight is supposed to arrive at 5:30 a.m. on Tuesday in Taipei, Taiwan's capital city.
Kansas pitching coach Ryan Graves hopes the extra effort will pay off for Zeferjahn, a terrific power-pitching prospect who made big strides from his freshman to sophomore season.
Zeferjahn last pitched Sunday, which sets up perfectly for him to pitch this coming Sunday against Japan.
"I want Zef to be able to go seven, eight innings (next season) with inside of 105, 110 pitches, instead of getting to 100 in the fifth," Graves said of his ace. "That's going to be a big key to keeping the bullpen fresh, and he's going to win a lot of games if he's staying in them that late."
Getting more efficiency from their pitchers is a battle that pitching coaches at every level constantly wage.
"It's a power game right now and kids are very into what the radar gun is reading," Graves said. "I tell them all the time, it all comes down to creating bad contact and letting your defense play."
Graves hopes that Japanese hitters, known for their plate discipline, reinforce his words and make his pitchers realize that teammates bring their gloves onto the field for more than decorative purposes.
"These guys don't swing and miss much," Graves said of Japanese hitters. "They don't chase out of the zone much. This should help our guys realize you have to get outs in the zone, between the handle and the cap (of the bat), rather than always chasing the swing and miss."
Kansas, representing the USA, is in Pool B with Hong Kong, Japan and Russia.
Australia, Czech Republic, Korea and Taiwan are in Pool A. The games will be played in Chiayi, Taiwan.
The Jayhawks are bringing 23 players, 11 of them pitchers, including alternate Blake Goldsberry, back from an elbow injury that cost him this past season. He regained the year of eligibility and is a candidate to earn a spot as a weekend starter.
Other pitchers on the trip: lefties Nathan Barry, a juice recruit, Eli Davis (on his way back from Tommy John surgery and cleared to pitch), Daniel Hegarty, Jared Padgett (Mississippi State, then one year of junior-college ball), Conner VanCleave and Steve Washilewski, and right-handers Ryan Cyr, Brandon Ponticelli and Gabriel Sotomayor.
The tournament starts Thursday and concludes July 15.
"It will be good for our players to see a different style of play," Graves said. "Hopefully, they'll be paying close attention and will be open to new ideas."
New ideas such as the old, time-tested concept of pitchers letting their defense do some of their work for them.
Representing the USA, KU will try to win, but not at the expense of risking injury.
"I don't want to get out there and put a lot of mileage on people," Graves said. "The majority of our young guys have been pitching in summer leagues. I want to perform, but also want everyone to get back on the plane healthy so we go into fall healthy."
Kansas' Friday night starter from last season, third-round draft choice Jackson Goddard, signed with the Arizona Diamondbacks and has launched his minor-league career.
Next season's Friday night starter is scheduled to pitch against Japan in Taiwan in what shapes up as a compelling power vs. patience clash.