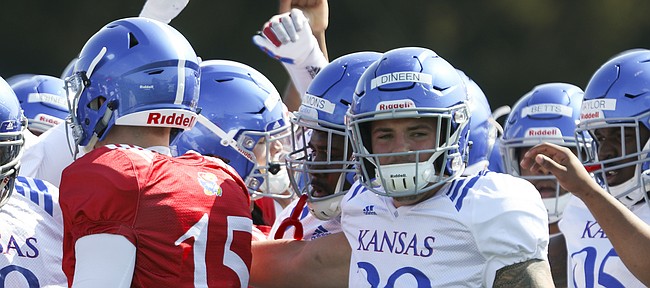 None of the Kansas football team's defensive leaders entered the offseason feeling anything in the neighborhood of content, what with the Jayhawks allowing 43.4 points and 468.3 yards per game in 2017.
And while none are about to assume the whole scheme and unit are completely mended now, either, because of the practices, workouts and study they've put in since then, they at least are encouraged by what they deem noticeable advancements in the right direction.
Redshirt senior linebacker Joe Dineen identified the displays of some of his unsung teammates as one reason he felt encouraged about KU's defense.
"All throughout spring we had guys come out of the woodwork who hadn't played as much," Dineen said recently, while appearing on 1320 KLWN's Rock Chalk Sports Talk, with Nick Schwerdt. "We've got some depth this year and it's really more than we've had in previous years."
A lack of capable reserves has plagued the entire roster since before fourth-year head coach David Beaty took over. Dineen's time in the program dates back to the 2014 season, prior to Beaty's arrival, and the linebacker from Lawrence couldn't help but express his optimism for the defense heading into his final college season.
"It's good to see improvement from so many different guys in so many different levels — linebackers, D-linemen, DBs, we're all competing for spots and that's in the end gonna make us a lot better," Dineen said.
With defensive linemen Daniel Wise and J.J. Holmes, linebacker Keith Loneker Jr., safeties Mike Lee and Tyrone Miller Jr., nickelback Bryce Torneden, and cornerbacks Hasan Defense, Shak Taylor and Kyle Mayberry all joining Dineen as returning 2017 starters, the unit took on a distinctly more veteran feel during preparations for the 2018 season.
"Where I notice it the most is kind of in the weight room," Dineen said. "The (strength) coaches don't need to be motivators anymore. They just kind of tell us to lift and get our technique right, but they don't have to pick us up, because we have so many guys that are older and have experienced what they've experienced here, and they know that it's on us to change it. The coaches can say what they want but at the end of the day it's going to come down to the players wanting to move this program forward."
A redshirt junior in his fourth year at KU, linebacker Denzel Feaster, too, finds himself hopeful about the coming fall. Feaster described the scenes around Anderson Family Football Complex the past several months and said they featured players falling in line with needed to be accomplished.
"Honestly I feel way more positive about this season than I ever have for the simple fact that we have not focused like this," Feaster said. "I just see it without even having to speak on it."
According to Lee, he witnessed "ready-to-work" teammates seeking improvement, showing discipline and striving to play smarter.
"Everybody's serious and wants to win," Lee said.