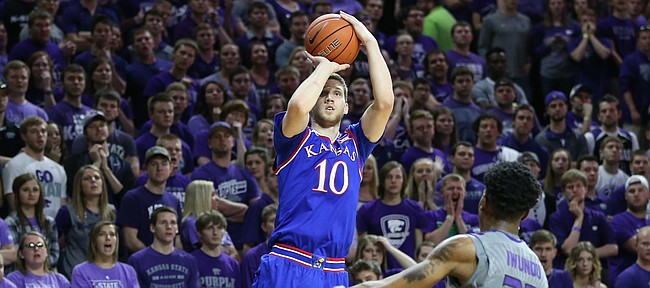 The Kansas upperclassmen know exactly what awaits them tonight in hostile Bramlage Coliseum.
Devonte' Graham, Svi Mykhailiuk and Lagerald Vick have seen it first hand and have emerged victorious during their last two trips to Kansas State's home arena, where the Jayahwks and Wildcats will do battle at 8 p.m. tonight on ESPN's Big Monday.
But neither of those victories came easy. And both followed a two-game KU losing streak in Manhattan that featured games that were equally as tough as those the Jayhawks have experienced during the past two seasons.
The Kansas State crowd, in all of its Sandstorm-rocking, purple-wearing, sometimes-swearing glory, has made sure that the KU-KSU game in Manhattan is one of the most energetic and intense games on the Big 12 schedule each year. And Graham, Mykhailiuk, Vick and KU coach Bill Self are expecting more of the same tonight.
"I would anticipate the same thing that we anticipate every time we go to Manhattan," said Self, looking ahead to Part 2 of the 2017-18 Sunflower Showdown. "It'll be the best environment that we'll play in from a competitive standpoint. I mean, we won't go to a place that will rival the energy that they have for us anywhere else. We've played in front of some great home courts, but there's a little venom and hatred in this one. And they've got a lot to play for and they're playing great, so I think it'll be the toughest atmosphere we've played in this year."
Mykhailiuk agreed, and said the key for Kansas to make it three wins in a row instead of seeing his record against K-State on the road even up at 2-2, was to eliminate distractions as much as possible the way the Jayhawks (17-4 overall, 6-2 Big 12) did when they snapped a four-game losing streak at West Virginia earlier this season.
"It's the same as every road game," Mykhailiuk said. "Every team has good fans, so we just stay tight, huddle and just focus on the small details and listen to whatever coach says."
Asked to compare the atmosphere inside Bramlage to what the Jayhawks play in at Allen Fieldhouse, Mykhailiuk was surprisingly complimentary of the K-State venue, even if it was built more than 30 years after KU's historic home court.
"I would say it would be the same, from their standpoint," Mykhailiuk said when asked how K-Staters felt about Bramlage. "They have really good fans and it's always tough to win there. But we like to play in tough places against tough teams. We like to show people that we can play with anybody."
Unlike Graham and Mykhailiuk, who lost at KSU in overtime as freshmen, Vick has never lost at K-State, but understands clearly that what the Jayhawks are walking into will not be easy.
"It's going to be a tough game," Vick said. "You know, a rivalry, good atmosphere. We're just looking to go up there and get a win and stay in first in the Big 12."
And then there's sophomore Malik Newman, who will be playing at Bramlage for the first time in his career. Sure, Newman was there last year to watch Frank Mason III and Josh Jackson fight off the Wildcats. But Newman was not in uniform and could not play in the game.
Tonight, he will be. And he knows, based off of that first game — a 73-72 KU victory at Allen Fieldhouse earlier this month — that the Jayhawks will have their hands full.
"It was a nail-biter, so I credit those guys," Newman said. "I know that they're a good team. We haven't had them in our marking scope, but we knew that they were coming up so we kind of have been watching them. I know that they've been playing good. I mean, it's a rivalry game. Even if it was a 15 or 20-point loss (last time), they'd still be waiting for us."