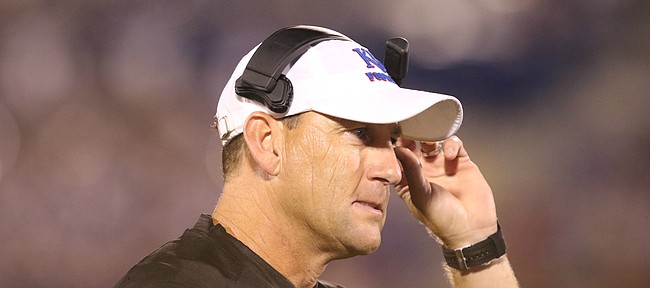 Kansas football coach David Beaty officially announced the hiring of the 10th and final member of his coaching staff for the coming season, defensive assistant Bill Miller, Monday afternoon.
Miller's experience coaching linebackers allowed Beaty to hand over those duties to the 40-year veteran, who joins the Jayhawks after spending four seasons at Florida State in the same role.
The hire required Beaty to re-assign some of his returning assistants. With Miller taking over as linebackers coach, Todd Bradford will become the safeties coach, Clint Bowen will oversee cornerbacks and Kenny Perry will shift to special teams coordinator.
"Bill Miller is as highly regarded as they come in the coaching community," Beaty stated in a KU press release. "The amount of respect he commands from his players and the coaches he works alongside is tremendous. He is a leader in our field when it comes to developing players, and I am ecstatic to have him joining our program."
This is the second stint at KU for Miller, who coached linebackers and was co-defensive coordinator on Mark Mangino's staff, in 2009.
From 2011-13, Miller served as assistant head coach and linebackers coach at Minnesota.
Earlier in his career, Miller coordinated defenses at Oklahoma State (1989-94), Miami (1995-98), Michigan State (1999-2002) and Arizona State (2005-06). He was associate head coach at Florida from 2003-04.
Miller's addition gives KU its full allotment of 10 on-field assistants. He joins defensive coordinator Bowen, offensive coordinator Doug Meacham, Bradford, running backs coach Tony Hull, Perry, offensive line coach A.J. Ricker, quarterbacks coach Garrett Riley, defensive line coach Jesse Williams and offensive assistant Justin Johnson.