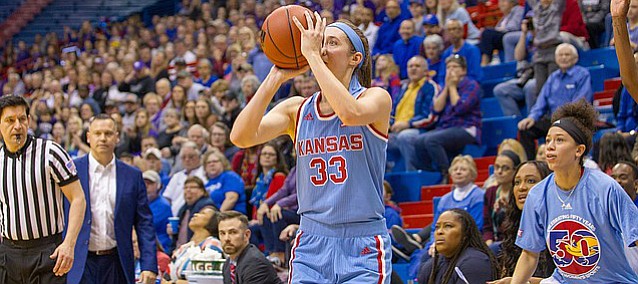 As the 30-plus former Kansas players walked off Naismith Court, Marlene Mawson held her ground.
The "Mother of KU Women's Athletics" and first KU women's basketball coach, Mawson wanted nothing more than to watch. She stared up at the Allen Fieldhouse video board, trying to take in some of the moments from the 50 years of KU women's basketball displayed on it — at least before she was whisked away by several administrators, players and fans, many greeting her with open arms and large smiles.
"It always is just amazing to me that we've got this kind of a crowd, this many supporters. Now, I look back at 50 years of athletes and I think there are so many more than I realized that play," Mawson told the Journal-World. "It kind of speaks volumes when you see this crowd on this floor for women. But there's so much more than that."
On a day when KU faced off against rival K-State — the Jayhawks lost in overtime, 63-59 — the day was dedicated to those of the past.
Mawson returned to center court, where she was inducted into the Kansas Athletics Hall of Fame in 2009, to present the Marlene Mawson Exemplary Student Athlete award to KU volleyball's Madison Rigdon.
The concept for the award came from longtime KU Athletics Director Bob Fredrick, who brought Mawson back to the University to present the award for the first time at the celebration of 40 years for KU women's basketball.
A decade later, it was Mawson continuing that tradition. As she turned and walked off the court, she passed along additional words of encouragement to KU guard Kylee Kopatich — "one of her favorites," Mawson said with a big smile.
"It's an honor just to think back of what it was," Kopatich said, asked about the moment after the game. "You saw those old jerseys, too."
One seat to Kopatich's left in the postgame press conference, guard Brianna Osorio sat up and leaned toward the microphone.
"Especially these shorts," joked Osorio, "because they're a little tight."
Upholstery aside — both teams donned throwback attire, with the Jayhawks wearing light blue uniforms and K-State going back to its old lettering — the Jayhawks were well aware of the meaning of the day.
"What we have now, compared to what they had then, they created that," Kopatich said. "We wouldn't have this opportunity if it wasn't for them."
The Jayhawks, in turn, attempted to put on a showing deserving of the occasion.
Despite a rocky shooting performance hovering in the low 30s, the Jayhawks locked down defensively and kept the Wildcats close. Trailing by six midway through the fourth quarter, Kopatich (15 points) and Osorio (15) each knocked down two 3-pointers to give KU the lead.
After a K-State basket, Christalah Lyons scored to push the KU advantage back to six with a minute left, but two timely 3-pointers by K-State's Rachel Ranke, plus a crucial turnover by Osorio, forced the game into overtime.
"I thought we made some mistakes in the final 40 seconds of regulation that our opponent did a great job of capitalizing on," Schneider said. "I think about those two plays (the turnover and KU's defensive breakdown on the final K-State 3) and I think about the seven missed free throws."
K-State finished the game out strong to hand the Jayhawks (11-10, 2-8 Big 12) their seventh consecutive loss. While Schneider wasn't pleased with the outcome, he did speak to the meaning of the day, drawing on some of his own memories to put it into context.
"I spent time with a lot of our alums the last couple days. Obviously, I could not be happier for Adrian and for her family," Schneider said of former KU great Adrian Mitchell, who had her jersey retired at halftime. "My father was a women's basketball coach for 46 years. I grew up around the game, but I also grew up around the development and the progress and got to witness it first hand, how far it's gone.
"Got a chance to grow up around the coaches that fought really, really hard for practice time on the game court and for locker rooms and for budgets and for scholarships. To be able to reconnect the eras, that's something that's been priority No. 1 for me since the day I got the job here."
As for Mawson, the experience was just as surreal.
Asked if she could've ever envisioned some of the progress that would be made with women's athletics at KU when she started at the university — several years before Title IX was implemented and enforced — she paused for a beat before cracking a smile.

"It was in my wildest dreams," Mawson said. "I didn't think it'd happen in my lifetime."