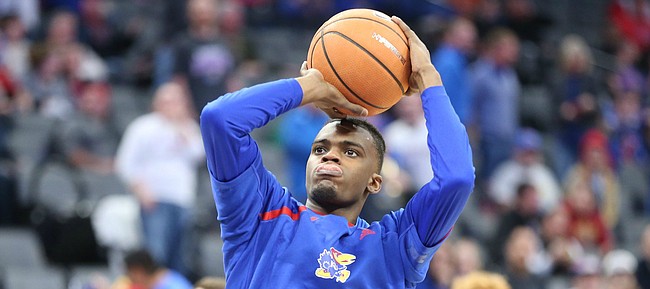 Tyshawn Taylor was as open a book as any Kansas basketball player during the Bill Self era. Whatever was on his brain quickly made its way to his tongue. He wore his emotions on his expressive face.
Happy or sad, serene or mad, Taylor, the ultimate extrovert, left the window to his mind wide open, enabling air to flow freely in both directions.
And then there is the polar opposite of Taylor in that respect.
Long and thin, quick and explosive like Taylor, Kansas junior Lagerald Vick is as introverted as any player Self has coached at Kansas.
Taylor talked a mile a minute. Vick speaks slowly, softly, reluctantly.
So trying to get to the source of Vick losing his aggressiveness and, in turn, his point production in the past seven games has presented even as skilled a mind prober as Kansas coach Bill Self a sizable challenge.
Vick's production decline came all at once, preceded by not the slightest hint.
He lit up Texas for 21 points on a night he made 3 of 6 3-pointers in KU's Big 12 opener, a 92-86 victory vs. Texas in Austin.
To that point in the season, he had reached double figures in points in 10 of 13 games and was averaging 17.4 points, 6.3 rebounds and 3.8 assists. He was shooting .561 overall, .491 from 3, .708 from the line.
In the seven games since, Vick reached double figures in points once and is averaging 6.6 points, 4.1 rebounds and 1.3 assists. During that span, he is shooting .365 overall, .222 from 3 and has attempted just five free throws, making two.
"Lagerald, he hasn't really done much, quite candidly, on either end ... since the Texas game," Self said. "And we need him being active. And we have visited quite a bit about it. It's not anything that he's playing poorly. He's just not putting his handprint on what's going on. And we need him to put his handprint on it."
Self said his visits with Vick have involved letting him know "we need him to do more. And he wants to do more. It's not like he's fighting that at all. But needing him to do more and certainly becoming more aggressive and maybe why haven't you been as aggressive and those sorts of things."
Vick scored four points on two dunks, and had two rebounds and an assist in Tuesday's 85-80 loss at Oklahoma.
Coming out of the inside-eight-minutes timeout in the second half, KU ran a play to get the scoreless Vick a dunk on a lob from Devonte' Graham. Sometimes, running a play like that out of a timeout can ignite a slumping player. Not this time. Vick didn't score again until picking up a putback slam with 2:22 left.
Malik Newman's recent emergence has softened the blow of Vick's slump, but doesn't eliminate the need for the Vick of November and December to return.
"I think he's going through a situation where, in the past, he's probably never had to be counted on consistently," Self said. "And he was so good early in the season and so good against Texas that maybe we started thinking that he could do that consistently, which I personally think he can."
Svi Mykhailiuk has played way more aggressively as a senior than in his first three seasons. Vick might do the same, but having already had a taste of what Vick plays like, nobody wants him to wait that long to return to early season form.
"I think he defers too much," Self said. "It's not effort. It's not. It's a mindset. It's a mindset of playing safe or whatever, and we've got to get him out of that."
Since Vick's vanishing act came without warning, nobody should be surprised if the early season Vick reappears without a moment's notice Saturday against Texas A&M in Allen Fieldhouse. He's far from an easy read.