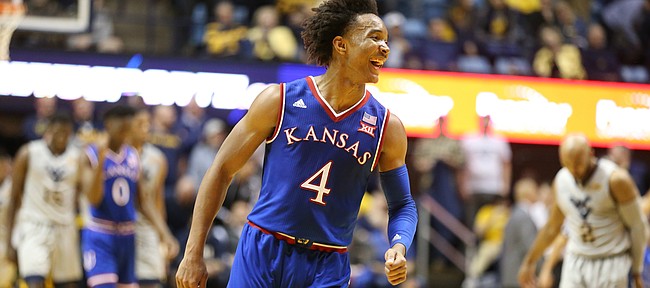 The Kansas men's basketball team continued its climb in the Associated Press Top 25 poll this week, jumping five spots from No. 10 to No. 5 in the latest rankings released Monday afternoon.
Kansas, which knocked off then-No. 6 West Virginia on the road last Monday, followed that up with a home victory over Baylor on Saturday to make it five straight Big 12 victories since falling to Texas Tech in the second game of the conference season.
The Jayhawks are now ranked higher than they have been since being ranked second in Week 5 of the 2017-18 season after racing out to a 7-0 start.
The top four in this week's poll are: 1. Villanova, 2. Virginia, 3. Purdue and 4. Duke, with Big 12 programs West Virginia (No. 7), Oklahoma (No. 12) — which KU will face Tuesday night in Norman, Oklahoma — and Texas Tech (No. 14) also are in this week's Top 25. TCU, which fell to Kansas State over the weekend, dropped out of the rankings.
Here's a quick look at the complete Week 12 poll:
1 – Villanova, 18-1 (63)
2 – Virginia, 18-1 (1)
3 – Purdue, 19-2 (1)
4 – Duke, 17-2
5 – Kansas, 16-3
6 – Michigan State, 17-3
7 – West Virginia, 16-3
8 – Xavier, 18-3
9 – Cincinnati, 17-2
10 – North Carolina, 16-4
11 – Arizona, 16-4
12 – Oklahoma, 14-4

13 – Ohio State, 17-4
14 – Texas Tech, 15-4
15 – Gonzaga, 17-4
16 – Saint Mary's, 19-2
17 – Wichita State, 15-4
18 – Clemson, 16-3
19 – Auburn, 17-2
20 – Florida, 14-5
21 – Arizona State, 15-4
22 – Tennessee, 13-5
23 – Nevada, 18-3
24 – Rhode Island, 15-3
25 – Michigan, 17-5