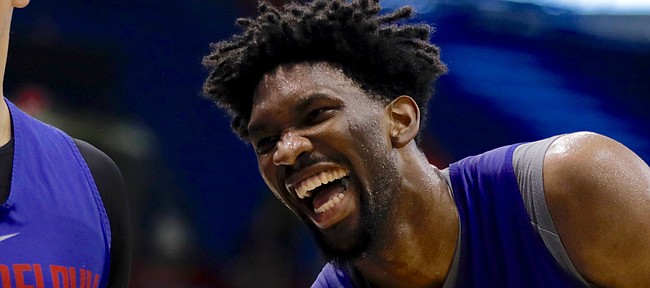 Bill Self, now in his 15th year as Kansas basketball coach, has made numerous impressive additions to his resume since coming to Lawrence.
Self won a national title, is working on trying to claim his 14th consecutive Big 12 title and has reached the Elite Eight seven times, the Final Four twice.
The one thing that Self never could lay claim to during his Kansas tenure was coaching an NBA All-Star.
That changed today when Philadelphia 76ers center Joel Embiid was voted as a starter in this year's NBA All-star game, Feb. 18, in the Staples Center in Los Angeles. The starters were announced on TNT's NBA Tip-Off show.
Embiid is the only first-time All-Star voted as a starter for this year's game.
The traditional All-Star game East vs. West has been changed. Instead, the two leading vote-getters, LeBron James and Stephen Curry, will choose sides.
The other starters: Giannis Antetokounmpo, DeMarcus Cousins, Anthony Davis, Kevin Durant, James Harden, Kyrie Irving and DeMar DeRozan.
James, who picks first because he received the most votes, and Curry will make their first four selections from the pool of starters voted on by fans, media members and players. They are not required to select starters from their conferences.
Head coaches vote in seven reserves from each conference, and James and Curry continue drafting from that pool after they have drafted from the starters' pool. The reserves will be announced Tuesday and the rosters selected by James and Curry will be announced next Thursday.
Heading into tonight's game in Boston, Embiid was averaging 23.8 points, 10.8 rebounds, 3.4 assists and 1.9 blocked shots.
The Associated Press contributed to this report.
More like this story on KUsports.com