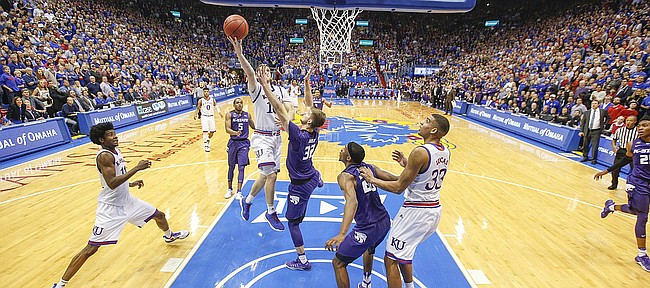 No. 12 Kansas Jayhawks (13-3 overall, 3-1 Big 12) vs. Kansas State Wildcats (12-4 overall, 2-2 Big 12)
Time: 11 a.m. | Location: Allen Fieldhouse, Lawrence, Kansas
TV: ESPN | Radio: IMG Jayhawk Radio Network
Log on to KUsports.com for our live game blog coverage and follow the KUsports.com staff on Twitter: @KUSports @mctait @TomKeeganLJW @bentonasmith @nightengalejr @chasenscott & @nickkrug
Keys for Kansas
1. Pressure the point
Whether it's Barry Brown, who exploded for 38 points — on just 17 shots — in K-State's most recent victory, or freshman Cartier Diarra, who played 37 minutes and recorded 17 points and four assists in that same game, the Wildcats will arrive in Lawrence still trying to get used to life without regular point guard Kamau Stokes.
Stokes, who missed the OSU game after suffering an injury last weekend, has the kind of experience, savvy and moxie required to come into Allen Fieldhouse and win.
A year ago, in the Wildcats' two-point heartbreaking loss to KU in Allen Fieldhouse, Stokes went for 13 points, seven assists and six rebounds and, at times, completely controlled the game on both ends of the floor.
With him out of the lineup, the pressure goes up on Brown and Diarra, and the Jayhawks would do well to harass them as much as possible.
Although that idea likely falls on Devonte' Graham the most, Marcus Garrett and even Malik Newman can also do their part. Plus, the Jayhawks can get creative with their defense and try to find ways to speed up either player in an attempt to force turnovers and turn this one into a track meet.
2. Match K-State's emotion
It seems a bit strange to say this, given the fact that the game is in Lawrence against one of KU's top rivals, but the Wildcats figure to come into this one with a little extra chip on their shoulders.
Whether that plays to their benefit or becomes a distraction remains to be seen, but there's no question that the Jayhawks are going to have to be prepared, both physically and mentally, to match the energy and emotion of a Kansas State team that believes it was cheated the last time these two teams played in Allen Fieldhouse.
In that one, instead of heading to overtime with momentum and a real chance to win, the Wildcats were sent home with a loss after Svi Mykhailiuk's bucket at the buzzer won the game for Kansas. Anyone who saw the play, including Mykhailiuk and KU coach Bill Self, believed the KU guard got away with a travel. And Self fully expects that the Wildcats will use that as an extra dose of motivation this time around.
"I have no idea what is talked about in other teams' locker rooms," Self said on this week's Big 12 teleconference, "but I know when we played Iowa State we talked about how the last time we played them in Allen Fieldhouse they made a shot to beat us."
3. Up and at 'em
Today's game will be by far the earliest tipoff of the season for the Jayhawks, and although that does not change the objective in terms of game plan and X's and O's, it does alter the team's preparation.
Friday's practice was conducted at 11 a.m. in an attempt to get the Jayhawks used to the earlier-than-normal start. And sophomore guard Newman, who said he was "more of a night owl" but could "do the morning," said he set three alarms to make sure he made it to practice on time.
Although Self certainly will not allow the early tip to be an excuse for his team, he emphasized the importance of finding focus quickly both before and after tipoff.
"An 11 o'clock game, to fans, might not seem like it's that early," Self said. "But now you've got 7 o'clock pregame and all that stuff. But I think it's good to do that. I would rather play an 11 o'clock game than a 9 p.m. game.
"I don't know that 11 is the ideal time, but there's a chance that that could be a tipoff time later on, so it's good preparation. The good thing about 11 o'clock games, and I'm sure Bruce (Weber, Kansas State coach) would tell you the same thing — the winner gets to watch everybody else sweat."
Mega Matchup
KU 3-point shooting vs. K-State 3-point defense
It's no secret that 3-point shooting is a serious weapon for this Kansas team. If on, the Jayhawks can bury anybody in the country in a hurry.
But did you know that the 3-point shooting matchup between these two teams pits the Big 12's most aggressive 3-point shooting team against the Big 12's best team at preventing its opponents from firing away from long distances?
KU enters today's game with a whopping 48 percent of its shots in Big 12 play having come from behind the 3-point line. Although that number might be a touch high in Self's eyes — he said after the Iowa State victory that his team was too reliant on the 3-point shot in that one — it has been effective, as the Jayhawks are shooting 41.4 percent from downtown and feature four players shooting 43.2 percent or better.
Kansas State, meanwhile, leads the Big 12 in preventing 3-point attempts, giving up just 31 percent of its total field goals allowed behind the 3-point arc.
Although both teams figure to scheme ways to play to their strengths in this area, the one that has more success stands to increase its chances tremendously.
"I think the big key is can we defend the 3-ball?" Weber said earlier this week. "Texas Tech did a great job of that. Washington did in their zone. They (KU) just really spread you, they go small ball, they get you all spread out and they've got the big fella inside that gives them an inside presence."
Jayhawk Pulse
When discussing his first actual experience with the Sunflower Showdown rivalry, Newman on Friday said Graham told him earlier in the week that the battle would be like the Missouri game times 10.
"That would be accurate," Self said. "It would definitely be times 10 from an exhibition game. If you go back in time, those are two pretty good, heated rivalries that were pretty similar. But, yeah, they would be considered, without any hesitation, our biggest rival. And I'm sure they look at us the same way so it'll be intense."
With the Jayhawks coming off a close-call contest with last-place Iowa State, the idea that no game is a given is fresh in their minds. Add to that the juice from the rivalry and the added motivation the Wildcats surely have and it's easy to see this one being another too-close-for-comfort contest for the home fans, despite KU being an 11.5-point favorite in the eyes of Las Vegas.
The Jayhawks have won five straight in the series since losing two games to the Wildcats in three-game stretch from 2014 to 2015, with the average margin of victory in those wins of 11 points, including last year's one-possession wins.
Probable Starters
No. 12 Kansas
G – Devonte' Graham, 6-2, 185, Sr.
G – Malik Newman, 6-3, 190, Soph.
G – Svi Mykhailiuk, 6-8, 205, Sr.
G – Lagerald Vick, 6-5, 175, Jr.
C – Udoka Azubuike, 7-0, 280, Soph.
Kansas State
G – Cartier Diarra, 6-4, 190, Fr.
G – Barry Brown, 6-3, 195, Jr.
G – Xavier Sneed, 6-5, 212, Soph.
F – Dean Wade, 6-10, 228, Jr.
F – Makol Mawien, 6-9, 225, Soph.