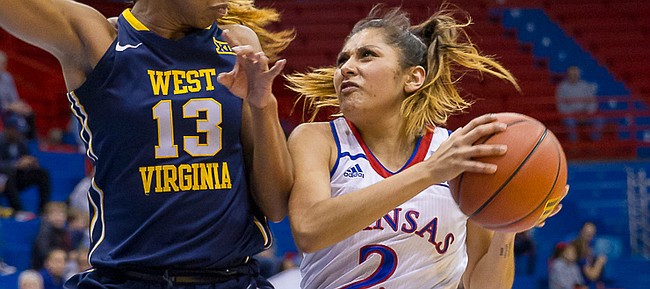 Depending on who you asked, you'd get a different story.
Moments after his 15th-ranked West Virginia squad dropped the Jayhawks to below .500 in conference play, winning 74-54 in Allen Fieldhouse, coach Mike Carey strolled to the post-game press conference and offered his coaching counterpart a compliment.
"I'll tell you what," Carey said. "Kansas is five times better than they were last year."
Brandon Schneider, in his third year at the helm of the KU women's basketball program, saw things a little differently.
"That's the poorest we've played in league play," Schneider said. "Win or lose, I want to feel like we get better. We didn't get any better today."
At various points of the Wednesday matchup, both points of view had some truth.
The Jayhawks (11-5, 2-3 Big 12) were outshot and outrebounded, both on the offensive and defensive glass. They committed more turnovers and fewer assists than West Virginia (15-2, 3-2), with decision-making and shot selection that irked Schneider, as well as some of the players.
"I think we strayed away from what we usually do," said Kylee Kopatich, who led all Jayhawks with 17 points (6-for-14 shooting).
Still, despite all the issues, KU kept the game close well into the third quarter.
Trailing 7-2 early — the Jayhawks missed their first 11 shots and committed four turnovers in that span — KU tallied its first field goal at the 3:46 mark in the first half.
Austin Richardson (10 points, seven rebounds) missed a 3-pointer from the right corner but hauled in the rebound and put a shot back up and in. With the seal on the net broken, the Jayhawks were able to cut the deficit down to one and then tie things up at 16-all in the second quarter.
"I thought defensively in the first quarter we really played well," Schneider said. "But when you're not making shots ... it has a tendency sometimes to affect your defense."
West Virginia, held to 11 points in the first quarter, responded to the 16-16 score with a 16-4 spurt to regain control of the contest.
After KU cut the deficit back down to four in the third quarter, the Mountaineers again responded with a run, this time a 16-1 spurt to push the lead out to 19.
"They were playing tough D, and we just couldn't hit shots," said guard Brianna Osorio. "I think once we get into that mentality, that we can't hit shots, we kind of get down on ourselves. And I think we should stay tough and together and, you know, score. Try and score."
Osorio, who came into the game averaging 10.1 points per contest, was held to just five, though she did rack up seven rebounds. Point guard Christalah Lyons, the team's leader in scoring, was held to just eight points while committing six turnovers.
The Jayhawks ultimately shot well in the second half, making just shy of 46 percent of their field goals. They did not, however, make a 3-pointer after the second quarter, shooting 0 for 4 from distance in the half.
In the end, the lack of shooting, as well as the turnovers, rebounds and length of the opponent, were all too much to overcome.
That left the Jayhawks with their second straight defeat and plenty of work to do leading into a showdown against No. 7 Texas, the third consecutive ranked opponent KU will face off against.
"They're all big bodies down in the post," Kopatich said of the matchup. "I think we're just going to bounce back and, hopefully, get (it) together for Austin."