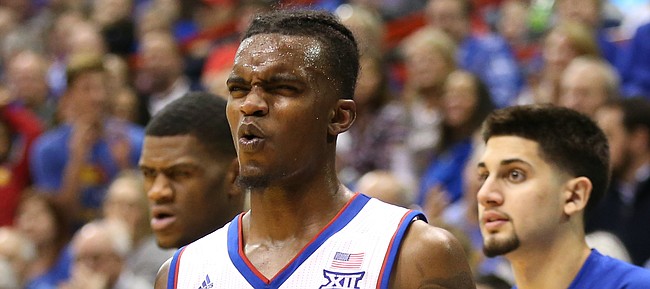 Kansas' 83-78 victory over Iowa State Tuesday night at Allen Fieldhouse not only got the Jayhawks back on track in their cozy home arena but also became the latest installment in a trend based on revenge.
KU coach Bill Self may not exactly see it that way. In fact, when asked this week about the rematch with an Iowa State team that defeated the Jayhawks the last time the two teams squared off at Allen Fieldhouse — 92-89 in overtime, on Feb. 4, 2017 — Self scoffed at the idea that payback was a motivating factor in Tuesday's matchup.
"I think media makes a bigger deal out of crap like that than what we do," Self said ahead of Tuesday's game. "Will I mention it? Yeah, I'll mention the last time we played them they beat us in our building. But that's not something you circle and froth at the mouth at since last April because of one game. At least that's not how it works with me. ...If you have to motivate them that way, I don't quite buy into it as much."
The numbers suggest these kinds of rematches at least mean something.
Photo Gallery
Kansas basketball v. Iowa State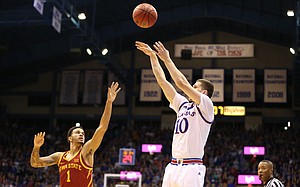 View a gallery of images from the Jayhawks' Tuesday night matchup against the Cyclones at Allen Fieldhouse.
The Jayhawks (13-3 overall, 3-1 Big 12) now are 6-0 in the next meeting at Allen Fieldhouse following six home losses to Big 12 teams during the Self era. The average margin of victory in those six games? Thirteen points.
The largest margin of victory in that stretch came via a 97-70 pasting of Kansas State in 2007 after falling to the Wildcats in Lawrence, in 2006. KU also beat Texas A & M by 20 in the fieldhouse rematch that came two years after Acie Law IV's big shot buried Kansas.
Add one more to the win column for rematches with any team that has beaten the Jayhawks at Allen Fieldhouse during Self's time in charge, as the Jayhawks also got revenge on San Diego State for a 2014 loss by beating the Aztecs by 13 in their home gym the following season.
The Jayhawks have not played Nevada, Richmond or Oral Roberts again at home since losing to those teams, and also have not yet had a chance to avenge this year's home losses to Arizona State or Texas Tech.
'Run, run, run'
Throughout Tuesday's five-point loss, Iowa State coach Steve Prohm could be heard screaming from the ISU bench, "Run, run, run."
And the Cyclones did, looking to push the tempo and catch Kansas in transition any time they could.
So was the idea to take advantage of KU's limited depth or is that just the way the Cyclones play?
"That's how we want to play," Prohm said. "The ball's got to move, the ball's got to get up the sideline, we want to play fast. And I've probably gotta trust our depth a little bit more, but there were a couple stretches when it went even-to-seven, even-to-seven and that killed us. ...Difference in the game was live-ball turnovers. Bottom line."
Iowa State turned it over 17 times compared to just 10 for Kansas.
They'll be ready
As expected, freshmen forwards Silvio De Sousa and Billy Preston did not play Tuesday night, marking the 15th game on the bench for Preston since a compliance issue involving his vehicle surfaced in mid-November. It was the fourth game played by KU with De Sousa sitting on the bench in street clothes.
While KU coach Bill Self said earlier this week that he remained optimistic that both players would know their status in the eyes of the NCAA and still could join the rotation soon, one thing is crystal clear about their potential addition.
How much they can impact a game remains to be seen and could take some time, but they will be ready to play. Self and his staff have made sure of that in the way they've prepared them.
"Right now, we're saying, 'Here's three things you need to know on offense, here's one out-of-bounds play, if they run zone here's one thing you need to know in zone," said Self, specifically talking about De Sousa. "I was talking with him (Monday): 'Just be able to play and do those things without thinking and you can help us.' If he's a thinker, he won't be able to help us much. In short spurts he can get in there and help. I don't think it'll be extended (playing time) until he gets more comfortable."
This and that...
Tuesday's win pushed Kansas to 13-3 or better for the fourth consecutive season, a streak that began with a 3-1 start to Big 12 play in 2014-15... The Jayhawks also have now been 3-1 or better to open conference play for 12 straight seasons... KU leads the series with Iowa State 180-4, including a 52-10 mark at Allen Fieldhouse... The Jayhawks are 6-2 this season inside Allen Fieldhouse and 7-1 away... KU came two 3-point attempts shy of tying their record of 38 3-point attempts in a game (versus Arizona State, in December), making 14 of 36, for 38.9 percent.