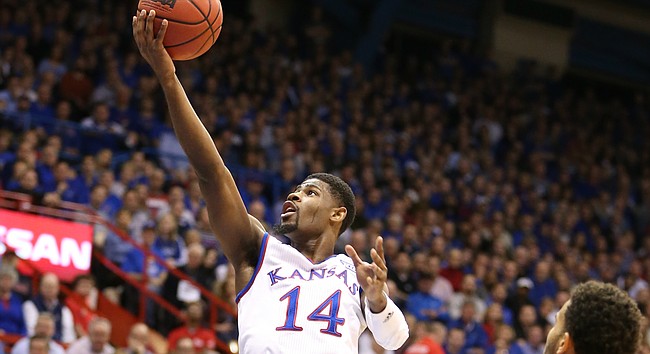 Bill Self told his Kansas basketball team a week ago following a loss to Texas Tech it wouldn't be the last time the Jayhawks left Allen Fieldhouse sad this season.
That type of post-game displeasure didn't repeat itself Tuesday night at Allen Fieldhouse, though. A breakout performance by KU sophomore Malik Newman and another impressive 3-point shooting display by senior Svi Mykhailiuk allowed KU to hold off its pesky visitors from Iowa State, 83-78.
Newman exploded for a career-high 27 points, improving on his previous best of 25 against Ole Miss, when he played at Mississippi State.
Mykhailiuk added 23 on 8-for-13 shooting, and matched his personal record with six successful 3-pointers.
Although senior point guard Devonte' Graham had an off night with 4-for-14 shooting, he contributed a game-high nine assists.

Here's a quick look back at some of the action:
• The game turned when: The Malik Newman Show debuted in the second half.
A former McDonald's All-American, the 6-foot-3 sophomore transfer from Mississippi State finally displayed the offensive explosiveness KU had been waiting to see.
Newman's eight-point first half was just enough to get him going, and then he took off in the final 20 minutes. He easily surpassed his previous best scoring night as a Jayhawk (17 versus Toledo) by pouring in 19 points in the second half.
When his fifth 3-pointer of the evening dropped, it gave KU a seven-point lead against a relentless group of Cyclones near the midway point. The shot didn't come close to sealing the game, but it was one of several crucial moments for Newman.
A backup to begin the night, Newman started the second half because he began carrying himself with confidence and looking like a completely different player than he had over the course of the past couple of months.
Photo Gallery
Kansas basketball v. Iowa State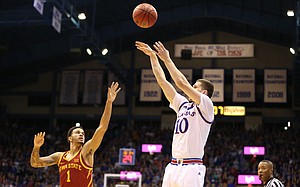 View a gallery of images from the Jayhawks' Tuesday night matchup against the Cyclones at Allen Fieldhouse.
Seeing Newman play well and assert himself seemed to help his teammates, too, who, like KU coach Bill Self, kept insisting this day would come for the shooting guard.
Although Newman cooled off in the final minutes, his spark had as much to do with the KU victory as any sub-plot, and his late blocked shot and transition layup with a little more than two minutes left gave KU a 77-73 lead.

• Offensive highlight: The fans in the fieldhouse hadn't really let loose until a quick sequence in the second half, when consecutive Iowa State miscues gave them reason to raise up and let their voices be heard.
The Jayhawks sent their supporters into a frenzy with back-to-back steals that led to back-to-back break-away slams.
First, Newman jumped in front of an errant Nick Weiler-Babb pass and took it the length of the floor for a one-handed flush before a Cyclone could catch up.
Mere seconds later, Graham poked the ball away from Lindell Wiggington and began a three-on-two race the other direction.
The senior point guard hesitated as he approached the 3-point line on the left side of the floor and then lofted a pass to the right side of the rim, where Vick flew in to finish the fast break with a two-handed jam.
• Defensive highlight: An inspired Newman was so fired up in the first half that he recorded just his fourth blocked shot of the season.
This one wasn't your ordinary swat, either. Newman pulled it off minus a shoe. After losing one of his adidas near mid-court, Newman didn't get after a loose ball in his area. But once he spotted Weiler-Babb tracking it down, the KU guard went into chase-down mode and managed to thwart the 6-5 Cyclone at the rim.
Newman didn't even fall down afterward as his right sock sent him into a brief slip.
• Key stat: Points in the paint. The Cyclones dominated this category the vast majority of the first half — until KU finally got starting center Udoka Azbubuike involved with less than three minutes to go before intermission.
Azubuike's three dunks and six points in the final stretch of the opening half helped KU avoid an embarrassing deficit in points in the paint. Even with his boost the Cyclones out-scored KU 20-12 inside over the course of the opening 20 minutes.
ISU freshman guard Wigginton scored 6 of his first-half best 16 points on layups as the Jayhawks struggled to defend the interior, enabling ISU to only trail 40-37 at the break.
The Jayhawks discovered far more inside opportunities in the second half, however, and were able to put Iowa State away in part by winning points in the paint, 22-12, in the second half.

• Up next: The Jayhawks will be right back inside Allen Fieldhouse again on Saturday morning, for a Sunflower Showdown with rival Kansas State (11 a.m., ESPN).