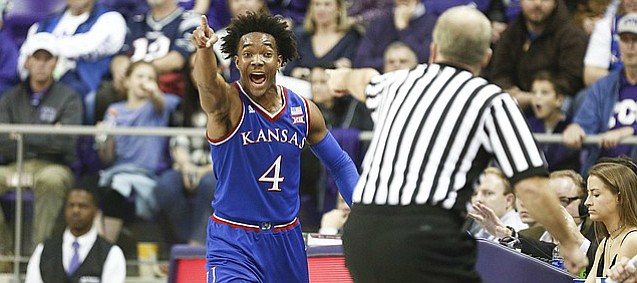 Kansas basketball coach Bill Self tried to tell himself and the world last week that it's too early to be thinking about winning the conference, but by week's end even he couldn't help himself.
The Big 12 race is too compelling, and human nature, especially for highly competitive people, is too strong to do anything but study and discuss the race from the opening gun until somebody hits the tape as champion.
"You need to hold serve at home, but when you don't, you have to go steal one and this was a steal, the way I look at it," Self said after Kansas defeated TCU, 88-84, in Fort Worth in exciting fashion Saturday night.
When talking about how teams are faring, Self doesn't mention their records. Instead, he uses plus or minus numbers, adding one digit for every road victory and subtracting a point for every home loss. He doesn't add a number for either road losses or home victories.
In the actual standings, Texas Tech and West Virginia share first place with 3-0 records. Kansas and Oklahoma are tied for third at 2-1. Iowa State is alone in 10th at 0-3 and the other five members are tired for fifth at 1-2.
"We're plus one," Self said. "OU is plus one."
They arrived at the same number in different ways, KU gaining two points for winning a pair of road games and subtracting one for losing a home game, the Sooners at plus one for winning a road game.
West Virginia, because it has two road victories and hasn't lost at home is plus two. Texas Tech, with one road victory and no home losses is plus one.
"That's kind of how I look at it," Self said of his math. "We're just three games in, but we're not in great shape. We're not in great shape by any stretch, but we're not in bad shape by any means either. We're kind of right there. If we're able to play well at home this week (vs. Iowa State and Kansas State), then maybe we could put ourselves up near the top."
Note he said near the top, not at the top. Not yet anyway.
"West Virginia and Tech have separated themselves, but if you can get five or six road wins, you're going to have a great, unbelievable league record," Self said. "We're fortunate to have two so far."
Even though just 17 percent of the results are in, the conference seems to be breaking itself into three tiers of quality this season (listed in alphabetical order): .
Tier I (NCAA tournament locks): Kansas, Oklahoma, Texas Tech and West Virginia.
Tier II (Right side of bubble): Baylor, Texas, TCU.
Tier III (Wrong side of bubble): Iowa State, Kansas State and Oklahoma State.