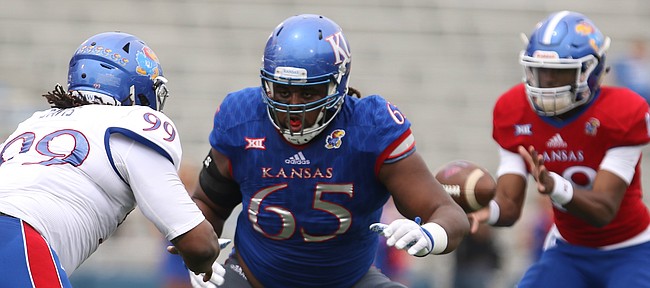 Former Kansas offensive lineman Jayson Rhodes will play one final college football game on Sunday, when he hopes to showcase his abilities at the Tropical Bowl, in Daytona Beach, Fla.
Rhodes and dozens of other players who have completed their college eligibility will practice for two days and play an exhibition in front of NFL scouts and decision-makers.
An 11-game starter as a junior in 2016, Rhodes, a 6-foot-4, 315-pound lineman from Houston, started the first two games of his senior season with the Jayhawks before being supplanted on the depth chart by Andru Tovi at left guard. Rhodes played in eight games in 2017, and started three.
He earned a spot on the Big 12 Commissioner's Honor Roll and the KU Athletics Director's Honor Roll in the spring of 2017.
The third annual Tropical Bowl kicks off at 8 a.m. (CT) Sunday, and can be streamed online at FloFootball.com with a subscription.
Former KU players defensive end Damani Mosby, cornerback Marnez Ogletree and safety Tevin Shaw all played in last year's Tropical Bowl.