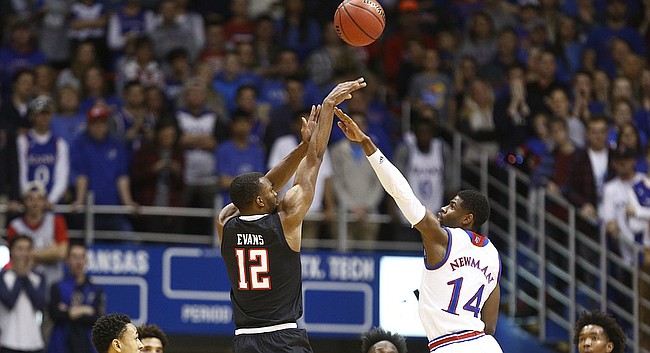 Last week's home loss by Kansas to Texas Tech did more to help the Red Raiders than to damage the Jayhawks in the latest Associated Press Top 25 poll.
Texas Tech, ranked No. 18 at the time of its upset win over Kansas, jumped 10 spots to No. 8 in this week's poll, making the Red Raiders the second-highest ranked team in the Big 12 Conference in this week's poll.
West Virginia, which jumped from No. 6 to No. 2 after its convincing win over Oklahoma over the weekend, is the top-ranked team in the conference, with Oklahoma sitting third at No. 9.
Kansas (12-3 overall, 2-1 Big 12) dropped just two spots from No. 10 to No. 12 after a 1-1 week that featured the home loss to Tech and Saturday's, 88-84 road win over No. 16 TCU.
Despite their loss to Kansas, the Horned Frogs remained in the No. 16 spot in this week's poll.
There was not as much shake up in the middle of the poll because of the large number of losses suffered by teams between No. 5 and No. 20 during the past week. Seven different teams ranked in that range lost last Saturday alone and a couple of them suffered two losses during the past week, creating a situation where many of the same teams simply were shuffled around in the middle of this week's poll.
Having said that, No. 22 Auburn and No. 25 Creighton were both new to this week's Top 25.
Kansas will face back-to-back unranked teams at home this week — Tuesday vs. Iowa State and Saturday vs. Kansas State — before heading east to take on West Virginia on Jan. 15.
Here's a quick look at the updated rankings.
AP Top 25, Jan. 8, 2018
1 – Villanova (52)
2 – West Virginia (12)
3 – Virginia (1)
4 – Michigan State
T5 – Wichita State
T5 – Purdue
7 – Duke
8 – Texas Tech
9 – Oklahoma
10 – Xavier
11 – Arizona State
12 – Kansas
13 – Seton Hall
14 – Cincinnati
15 – Gonzaga
16 – TCU
17 – Arizona
18 – Miami, Fla.
19 – Clemson
20 – North Carolina
21 – Kentucky
22 – Auburn
23 – Florida State
24 – Tennessee
25 – Creighton
More like this story on KUsports.com